Fifa Under-20 World Cup: England draw with Iraq
Last updated on .From the section Football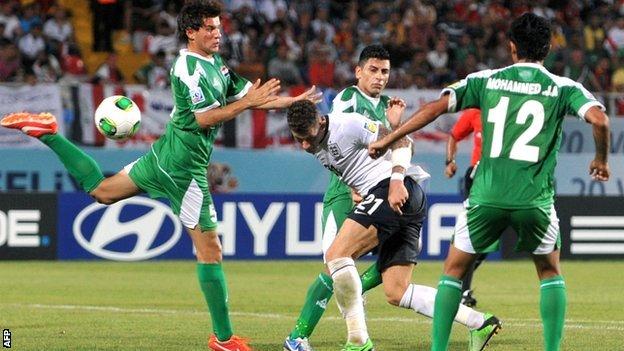 England's youth teams suffered further indignation when the Under-20 side let a two-goal lead slip to draw 2-2 with Iraq in their World Cup opener.
England appeared set for their first win in the tournament since 1997 after goals from Conor Coady and Luke Williams gave the side a 2-0 lead.
But Iraq bounced back when Ali Faez scored from the spot before Ali Adnan equalised in stoppage time.
England are now winless in 15 Under-20 World Cup matches.
Sunday's disappointment comes in the same month that England's Under-21 side crashed out of the European Championship at the group stage.
Under-20 boss Peter Taylor had said before the tournament that the squad wanted to put English football "back on the map".
His side still have games against Chile and Egypt in attempt to make it through to the next round, but he said he was "disappointed" with the late leveller from Iraq, whose senior side is 98 in the world rankings.
Taylor told the FA website: "I was very pleased with the way that we started and pleased to score from a set-piece but we needed to do more of the same.
"In the second half, we got another goal but didn't defend as well I would've liked. We can definitely do better, we're disappointed with the very late goal.
"Maybe we were unlucky because we had a man injured on that side of the pitch during that particular part of play.
"We may have been a touch tired, but we can do better than that on the final goal, when we let someone come inside.
"When tiredness gets into the bodies, it can get in the brain as well and you can then make the wrong decisions."
England face Chile on Wednesday, before taking on Egypt next Saturday.