Hearts administrator optimistic over season ticket sales
Last updated on .From the section Football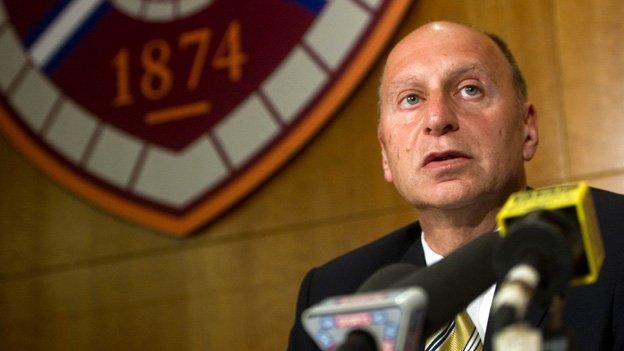 Administrator Bryan Jackson is optimistic Hearts will reach the season ticket sales needed to keep the ailing club afloat.
"Sales started off very well. I understand we got to nearly 500 by yesterday," Jackson told BBC Scotland.
"This was more than we'd anticipated and it shows the demand is there."
Hearts had already sold 7,000 season books before entering administration but the money raised through those sales has already gone.
"As usual, we've had problems with credit card companies, which we're trying frantically to sort out," continued Jackson.
"The 3,000 should allow us to trade for the next three or four months and that tells you that there is a viable business there."
Jackson told Radio Scotland's Sportsound programme that Hearts were still looking at four players leaving the club.
Two players, Jamie MacDonald and Ryan Stevenson, had earlier agreed to take a pay cut, but Jackson revealed that the administrators had made their plans based on this assumption.
"We actually assumed that the players who have taken a pay cut would," he said.
"Making that assumption, we're still looking at two senior and two youth players [leaving]."
Jackson then revealed the news that a fifth player was at risk of redundancy if he did not accept a wage drop.
"There could be another player, that, if he doesn't agree to a reduction, then we might be one more down," he explained.
"The reason we're trying to sell the season tickets so quickly is so we can keep the rest of the squad intact."
Jackson was also positive about the credibility of the proposed bid to buy the club from fans' consortium the Foundation of Hearts.
"I don't have any doubts that they have a credible interest," he said.
"As per usual though, the problem is whether they can raise the required funds.
"I think the intentions are good and they seem to be well-organised.
"We certainly had a very positive meeting with them, so I feel quite positive about that."
The club have debts of £25m - owed to companies formerly owned by Vladimir Romanov, who first invested in the club in 2005.
Gary Locke's team will start next season in the top flight with a 15-point deduction.