Hearts: Jamie MacDonald and Ryan Stevenson take wage cuts
Last updated on .From the section Football116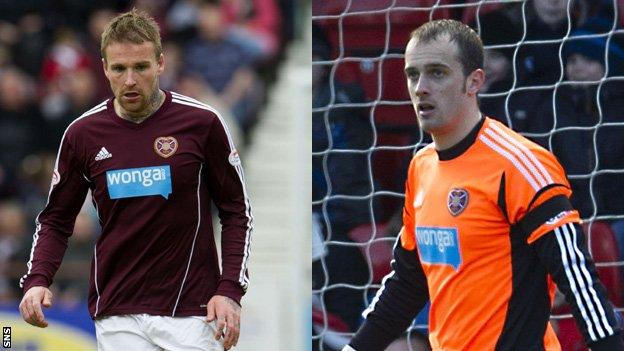 Jamie MacDonald and Ryan Stevenson have agreed to wage cuts as Hearts' administrators announced further cuts.
Goalkeeper MacDonald, 27, joined Hearts as a youth, spending two seasons on loan at Queen of the South.
Midfielder Stevenson has had two spells at Hearts, leaving in 2012 but returning later that year.
"It's a magnificent gesture from the two players and they are the type of players we want at our football club," said manager Gary Locke.
"None of us at the club are getting paid right now because the club has no money. That's the truth. We need to get money in and if we can do that, we have a better chance.
"I'm not getting paid any money right now but all my friends and family are buying season tickets. I'll be doing everything I can because I'm the same - I'm a fan and want this club to survive."
BBC Scotland has learned that teenage full-back Kevin McHattie will also agree to a drop in wages.
The club hope to sell 3,000 season tickets to generate enough money to keep the business running over the summer months.
Administrator BDO announced on Thursday that 14 members of staff would be made redundant and indicated that four players would also be leaving the club.
"To see so many people lose their jobs yesterday was heartbreaking," said Locke. "My thoughts are with these great people.
"I won't have any input on which players are made redundant because it is purely about finance.
"Every penny that comes in goes towards the running of the football club. We need to stand shoulder to shoulder.
"It's imperative that we get more money in in the next two weeks. If we don't, more players will go and the club might not be here.
"We need to make sure the club survives. We have all made sacrifices over the last few days and now we just hope the fans can do the same."
Prior to entering administration, Hearts were planning to sign defender Danny Wilson on a permanent deal after his loan from Liverpool last season.
But Locke explained: "The transfer embargo [imposed by the Scottish Premier League after players were not paid on time] means we can't sign Danny Wilson when his loan expires at end of the month and that is a blow.
"I'm losing out on a fantastic player that I would have loved to have built my team around. Hopefully if everything works out, you never know, he might be back here one day.
Meanwhile, BDO have confirmed that directors Roman Romanov, Sergejus Fedotovas and Vitalijus Vasiliauskas have left Hearts.