Kick It Out marks 20th year and makes T-shirts non-compulsory
Last updated on .From the section Football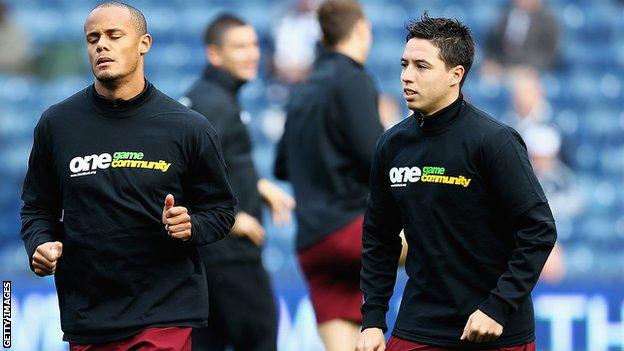 Kick It Out will mark its 20th anniversary with a season of events and have made it non-compulsory for players to wear their T-shirts.
Previously the anti-discrimination body has held a two-week action period.
The body maintains that the decision to drop the T-shirts campaign is not related to players, such as Jason Roberts, boycotting them last year.
"We're not telling people what to do. There are lots of ways to support Kick It Out," director Roisin Wood said.
"T-shirts are just one option and some clubs will still use them as a way to show their support of the campaign but for us it's just one area of how we work.
"We've given the option to clubs, communities and individuals and said for them to tell us what they want to do and how best we can support what they do to fight discrimination."
Reading striker Roberts, 35, revealed his frustration with Kick It Out's actions over racial abuse incidents involving Liverpool's Luis Suarez and Chelsea's John Terry.
Rio Ferdinand and a host of players also refused to wear Kick It Out T-shirts on the weekend of 22 October. Ferdinand subsequently wore a T-shirt a week later.
Kick It Out will release an app for mobile phones so fans can report discrimination at games for the start of the new season.
The body has also been working for 18 months on a similar application for players, which may also be ready for the new campaign.
Wood told BBC Sport: "We recognise that for some players who have been victims of discrimination there should be an app for them as well.
"We're hoping that players will use that themselves in incidents of discrimination because reporting is a critical element of our work. We are supported by all of the authorities that want to drive it (racism) out of the game."