Derby County: Trapattoni comments irritate Nigel Clough
Last updated on .From the section Football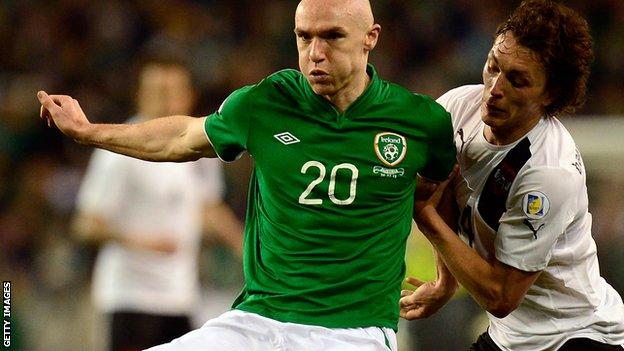 Derby County manager Nigel Clough says Republic of Ireland boss Giovanni Trapattoni should only comment on the form of Conor Sammon and Jeff Hendrick and not discuss their club status.
"We don't really think it is his place to be commenting on things like that," Clough told BBC Radio Derby.
"Just talking about the form of the players would be enough."
He added: "We thought his comments were quite strange and probably misplaced.
"We can take it as a backhanded compliment, in some ways."
Sammon, who moved to Pride Park for £1.2m from then-Premier League club Wigan Athletic in 2012, and Derby team-mates Hendrick and Richard Keogh won their first international caps against Poland in February.
The trio have been involved in Trapattoni's summer campaign of World Cup qualifiers and friendly fixtures.
Both Sammon and Hendrick started against world champions Spain in New York earlier this month and featured as second-half substitutes in the 1-1 draw against England at Wembley in May.
Derby chief executive Sam Rush said Trapattoni's endorsement, while glowing, was misguided.
"I will take the comments in the positive sense - that Mr Trapattoni was talking about how good the Derby County players were," said Rush.
"I'm not sure if some things were lost in translation - some of it was quite literal, so perhaps it wasn't.
"We're pleased that people think highly of Derby County players but we're in no rush to put them in the Premier League with anyone other than Derby County, I can assure you of that."