Kevin Blackwell: Bury chairman Stewart Day impresses manager
Last updated on .From the section Football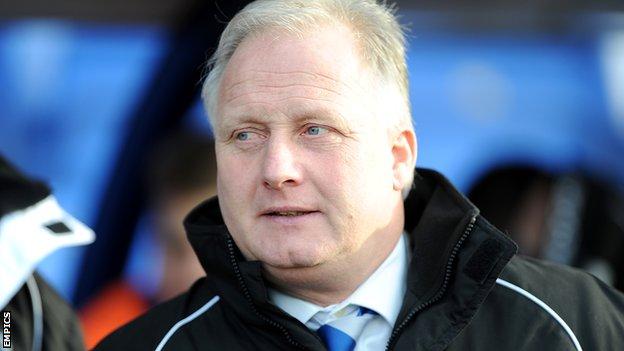 Bury boss Kevin Blackwell is confident the club is now moving in the right direction under chairman Stewart Day.
A new board was installed and Ronnie Jepson joined as assistant manager.
"Anyone who works at the club has been really impressed with what they've seen, what they've heard and what's happened," said 54-year-old Blackwell.
"He's young, he's bright, he's brash. I wouldn't say he's arrogant, but I think if we did well, he could become arrogant.
"He's been everything that I could have asked for. He knows where he wants to be and he knows what he wants to do.
"He has said 'that will happen' and sure enough, it's happened. It's not been bluster, it's been real proaction."
The Shakers were relegated from League One last season after a campaign dogged by financial problems and two transfer embargoes.
Blackwell has released 16 players since the end of the season, leaving just eight contracted for next term, and that number has fallen too following David Worrall's move to Rotherham.
Bury will look at a number of trialists over the summer and also plan a training camp at St George's Park, the Football Association's national football centre.
"The problem is we're two months behind everybody else on player recruitment and that's why we're having to go down the European route and look at 20 or 30 players," Blackwell told BBC Radio Manchester.
"We've gone after four or five players who I believe, and they believe, can play in League One or the Championship.
"We've got to aim high and if I get one or two out of the five, then we'll end up with some good players.
"As I said to the chairman, if we have to start with 16 players and then get the right players in the next two or three months, then we are going to be way better off than doing it in one go and having nine months of hell."