Foundation of Hearts insist takeover bid is viable
Last updated on .From the section Football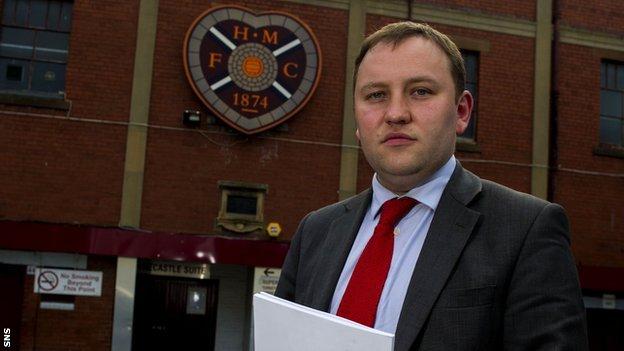 The Foundation of Hearts consortium of fans' groups seeking to buy the club has insisted it has the finance to mount a bid.
Administrator Bryan Jackson met the group last night and had earlier queried if potential bids were viable.
However, Ian Murray MP, who is chairman of the group, told BBC Scotland it had no fears over raising the money.
"If Bryan Jackson's looking for someone to come up with money, we're certainly in a position to do so," he said.
"We can come up with the funds, because if the 6,000 people who have pledged convert to direct debits, and we get a few more on top, we will certainly be in a position to come up with the money.
"Over 2,000 have converted in the last 36 hours, which is an absolutely incredible achievement."
Murray said that the meeting with Jackson had gone well, and that his group would be looking to proceed with their bid.
He continued: "The meeting did go well, but it did highlight how bleak the situation is at the club.
"We will be making a formal note of interest and statement of intent with the administrators.
"We're very confident we'll be able to put something on the table very shortly."
However, the Edinburgh South MP also admitted that the Foundation of Hearts would be prepared to join forces with other bidders.
"The situation at the club is so dire that this is about the survival of the club," said Murray
"We've always said that the Foundation of Hearts would try and attempt to buy the club on our own, but we're certainly willing to talk to other parties as well if there's a hybrid model they would wish to pursue.
"If the Foundation cannot do this on our own we would plead to other bidders who, perhaps, can't quite do it on their own as well to come and talk to us and see if we can do it together."
Murray also said he felt that there should be an investigation into former owner Vladimir Romanov's time at the club.
"I think once the club are through this particular period there has to be some kind of reflection on what has happened," he said.
"Fans have to look at how we can make Hearts successful from the bottom up and we really shouldn't be in this position again.
"Because, ultimately, the short-term gains aren't worth the long-term stability of the club."