Guernsey FC finances sound despite FA Cup doubts
Last updated on .From the section Football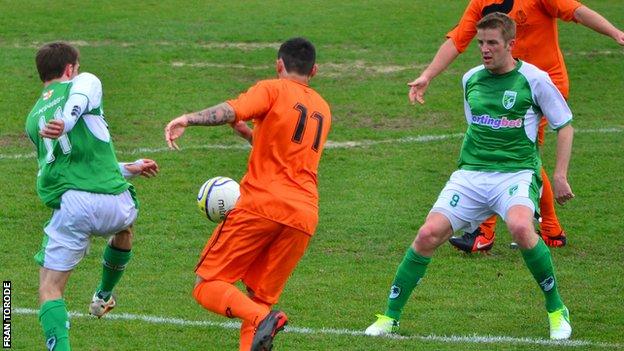 Guernsey FC are financially secure despite having to appeal for extra money to play in the FA Cup, according to the club's secretary.
The Green Lions because of the cost of travelling to matches.
The Football Association say the club must share gate receipts before paying visiting teams' expenses and must play any home replays off the island.
But Mark Le Tissier told BBC Guernsey: "The club's finances are sound."
He continued: "We've met all of our obligations and continue to do so, and we are on a sound footing for the foreseeable future."
Guernsey enjoyed plenty of success last season, going up for the second successive year as they and reaching the semi-finals of the FA Vase before
Throughout their history, they have had to pay for opposing teams to travel to the island but in the FA Vase have been allowed to keep the entire gate receipts - but that will not be the case in the FA Cup.
"What we thought may happen was we may well have to split the costs, but we would be able to offset that against the costs of bringing them here - but the FA Trophy and FA Cup committees have dictated that's not the case.
"We have to split it 50-50 and still pay to bring the people here," said Le Tissier.
Guernsey must decide by Monday morning if they are going to enter the competition and have launched a campaign for extra sponsorship to cover the £6,000 cost of bringing a club to the island, rather than increase ticket prices.
"We don't think raising prices would be fair on the supporters. We feel to charge what we already charge is the right thing to do.
"Our fans have been very loyal and very supportive and kept us going over the last couple of years, so we don't think that'd be fair," Le Tissier added.
"If we are unable to meet the financial burdens put on us, we would have to decline the invitation.
"But we're very hopeful that won't happen and we will get the support and by Monday morning at 10 o'clock we will be able to say to the FA 'yes, we would like to take part and we're able to meet the criteria you've set to take part'."