Hearts: Three or four parties interested in buying club
Last updated on .From the section Football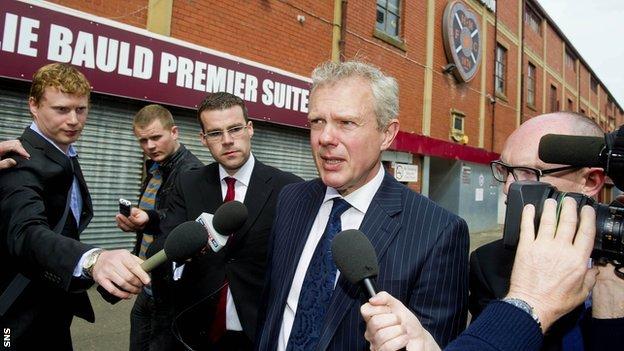 Hearts administrator Trevor Birch says "three or four" UK-based parties are interested in buying the club.
"I've not spoken to all of them yet, I've spoken to two of them but I would say they're serious [about bidding]," said Birch.
"There is a sustainable business here, we just have to get through the short-term."
"The solution has to be a quick sale," added Birch, who has taken over the running of the club along with BDO colleague Bryan Jackson.
The Foundation of Hearts is hoping to take over the club but the complication for any potential bidder is that the majority of shares are split between Lithuania-based companies Ukio Bankas and UBIG, who are also major creditors.
Ukio Bankas has been declared insolvent and its liquidator can sell the 29.9% shareholding it has in Hearts as well as Tynecastle Stadium, which was held as security for the debt of £15m owed by Hearts to the Lithuanian bank.
Around 50% of the club's shares are owned by UBIG, an investment company owed £10m by Hearts. Although UBIG has gone to the Lithuanian government to declare itself insolvent, this has not, as yet, been ratified by the relevant court.
A liquidator with the power to sell UBIG's Hearts shares will only be appointed if the company's bankruptcy is formalised.
All the assets of UBIG have been frozen by the Lithuanian courts.
And Jackson, who admitted the club could lose Tynecastle, explained: "From our limited dealings with them [Ukio Bankas and UBIG], they seem very professional and very reasonable and sympathetic to the club continuing as a club, because they obviously could look at it in a different way with different options.
"So, the early indications have been good, but they have a duty towards their creditors therefore they'll be looking to maximise value.
"We have to try and attract a reasonable offer that's acceptable.
"We have talked to the secured creditor and we have said that we will not be taking a fee until we know what's happening with the sale of the actual property.
"None of those funds [generated by season ticket sales] will go towards our fees, they will all be used for the running of the club. It will be used for players' wages and the other staff and for the running costs of the club."