Craig Bellamy vital for Cardiff City in Premier League - John Hartson
Last updated on .From the section Football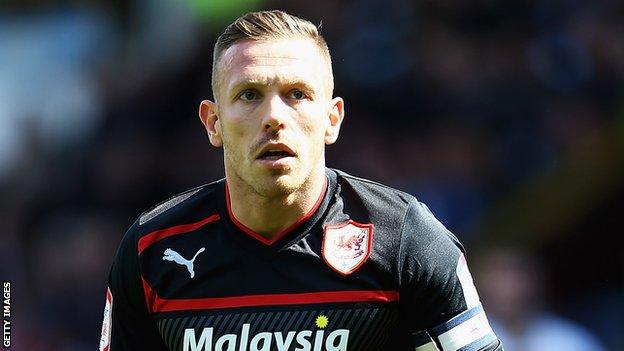 John Hartson says former Wales team-mate Craig Bellamy will play a key role for Cardiff City in the Premier League next season.
Championship winners Cardiff will make their Premier League debut at West Ham United on the opening weekend of the campaign.
And Hartson says Bellamy's Premier League experience makes him a vital member of manager Malky Mackay's squad.
"He will be massive for Malky Mackay next season," Hartson said.
Bellamy, 33, has played for a number of clubs in the Premier League including Coventry City, Blackburn Rovers, West Ham, Manchester City and two spells at Liverpool.
"Craig's got great experience of the Premier League. He's got real quality," said Hartson, who also played alongside Bellamy at Coventry City and Celtic.
"I'm working now with Craig with the national team alongside [Wales manager] Chris Coleman and he's a great influence around the place.
"He will be able to help those young players who have never played at this level before.
"Craig's obviously had a wonderful career at West Ham, [Man] City and Liverpool. He's vastly experienced.
"I'm sure Craig will want to play every week - I know what the boy is like. But I think Malky will have to put the reins on him at times and hold him back slightly.
"He's the other side of 33 now and you wouldn't expect him to play every single game, but he's in great condition and looks after himself."
West Ham and Manchester City, two of Bellamy's previous clubs, will be Cardiff's opponents in their opening two games of the Premier League season.
Cardiff have yet to add to their squad this summer, but boss Mackay says the club are working hard to sign players ahead of the new campaign.
Hartson expects plenty of transfer activity at Cardiff ahead of the start of the season, which kicks off on the weekend of 17 and 18 August.
But the former Arsenal and Celtic striker believes Mackay will also give an opportunity to the players who were part of the Championship-winning squad to make an impression in the Premier League.
"No doubt Malky will look to bring in three or four new players, maybe a little bit of experience," Hartson added.
"But I think Malky's the type of manager to go and say to his players 'we'll give you an opportunity in the Premier League'.
"You don't know if you can perform there and if that's your level until you're actually thrown in and you go and prove yourself.
"I think we will have a bit of respect for the boys that brought them up."