Hearts: Kevin Kyle criticises Vladimir Romanov era at Tynecastle
Last updated on .From the section Football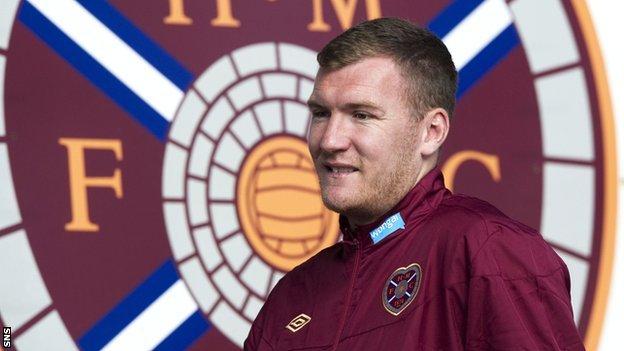 Former Hearts player Kevin Kyle has described the Tynecastle tenure of Vladimir Romanov as a "shambles".
The club entered administration on Wednesday and Kyle hopes Romanov, who became Hearts' majority shareholder in 2005, will no longer be involved.
"I'm sure to some extent he gave them some good times and got the team to a couple of finals and some of the players he splashed out on," he said.
"But looking back, it's just been a shambles from start to finish."
The striker insisted he had been aware of financial problems at the club from his arrival at Tynecastle in 2010.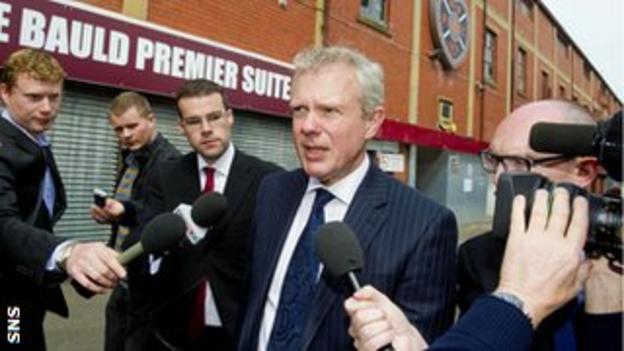 "They were there right from day one," he said. "Even before I went in, you heard players weren't getting paid sometimes.
"I remember winning 10 or 11 games on the bounce and we were right in between Celtic and Rangers at the top of the league.
"The 12th game we played Celtic at Parkhead and we lost 4-0.
"We were all wondering where our bonuses were and he [Romanov] came in and says: 'That performance the other night wasn't good enough, you will get your bonuses when you start playing a bit better'.
"I thought 'Playing a bit better? We have just won 11 out of 12'."
"It was just clear then that the money wasn't there to be paid."
Non-payment of bonuses became a pattern, according to Kyle.
"They would say they can't give you bonuses now but they will give you it next month and a wee bit extra for waiting," he explained.
"They were always trying to dig money from bits that just weren't there.
"We didn't get paid just before Christmas at one point for about four months and that was quite hard, because not every footballer was earning over a £1,000 a week.
"There were players on £500 or even £80-90 a week and they needed the money."
Kyle, who was released by Rangers earlier this year, is hopeful the club can emerge from administration with a sustainable business model.
"I'm sure the administrator will make sure the consortium that does come in to take over has got the best interests of the club at heart," he added.
"We don't want another owner coming in and doing exactly the same again because I don't think the fans can put up with much more of that.
"While they are getting 14,000-15,000, as long as it's run properly it should be sustainable. The problem is it hasn't been run properly."