Coventry City: Walsall boss Smith says groundshare 'won't happen'
Last updated on .From the section Football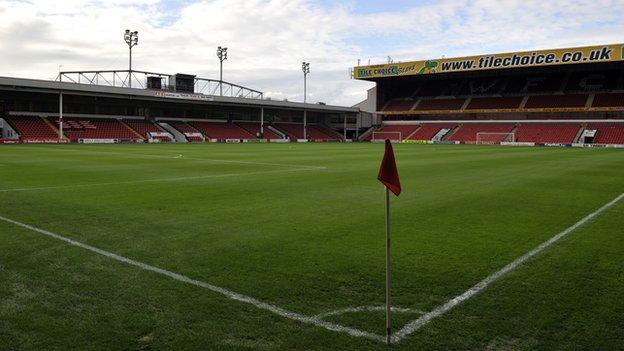 Walsall manager Dean Smith insists that reports of their Banks's Stadium home being lined up to play host to games involving League One neighbours Coventry City next season are not true.
"I'm led to believe that there will be no groundsharing between ourselves and Coventry," Smith told BBC WM.
Smith is aware that discussions have been held - but warns of the dangers of too much football to the Bescot pitch.
"Playing twice the number of games would certainly not help," added Smith.
"We've had to invest heavily in the pitch as the weather this winter caused us a lot of trouble.
"As well as trying to get games on, we had prestigious games involving England Under-21s and England Under-19s.
"People saw it wasn't as good as it should have been towards the end of the season.
"Apart from that," added Smith, "I wouldn't want to share an office with somebody."
After a rent row with Arena Coventry Ltd, their Ricoh Arena landlords that has now gone on for more than a year, Coventry City insist that they have long-term plans for a new stadium.
But they also need to ensure that they have a home in which to start the new season on 3 August - and, prior to last week's takeover by the Otium Entertainment Group, Sky Blues chief executive Tim Fisher told a fans' forum that the club were in groundshare talks with three rival Midlands clubs.
"Strange things happen in football," admits Smith. "I remember the groundshare between Palace and Charlton over 20 years ago and there was an even longer one when Brighton went to Gillingham.
"So there have been precedents for it before, but I've been told it won't happen.
"And I, for one, am pleased, as I don't see it working.
"Coventry are in administration, they're in the same league as us and it would look a bit silly if we were struggling and playing them at our own ground."