England U21s: Greg Dyke must appoint successor to Pearce

By Phil McNulty
Chief football writer
Last updated on .From the section Football72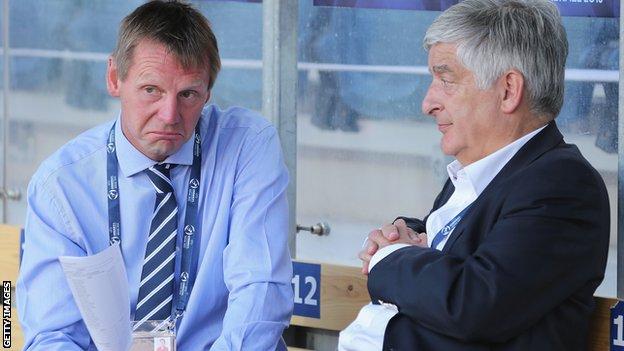 When new Football Association chairman Greg Dyke settles behind his desk at Wembley the file marked "England" will be right at the top of his agenda.
Roy Hodgson's senior team are still in the process of qualifying for next summer's World Cup in Brazil. England's place is not yet secured and there is a testing trip to Ukraine to come along with home games against Moldova, Montenegro and Poland.
And it has been a turbulent time for England's Under-21s after a winless early exit from the European Championship in Israel which was the catalyst for the departure of coach Stuart Pearce after six years in charge.
The failure to beat Italy, Norway and Israel and the end of Pearce's tenure has prompted accusations that prioritising the seniors effectively removed any possible chance of success in Israel, which the FA is prepared to accept.
With eligible players such as Arsenal's Alex Oxlade-Chamberlain, Manchester United duo Phil Jones and Danny Welbeck, plus Manchester City's Jack Rodwell, all on senior duty with Hodgson rather than in Israel with Pearce, the outgoing coach at least had a small shield against heavy criticism.
Former England manager Glenn Hoddle has emerged as a populist choice to succeed Pearce but has publicly retreated from the role claiming it would be "like a boxer going into the ring with one arm tied behind his back".
The FA is in no hurry to appoint Pearce's successor - and it may well be that its deliberations offer the chance of a change of culture as well as a change of coach.
The choice is expected to be made by Dyke, director of elite development Dan Ashworth, director of football development Sir Trevor Brooking, general secretary Alex Horne and managing director of Club England Adrian Bevington.
Gareth Southgate has been linked with the job but it will not be a hasty process as surely this is now a crucial time to examine the structure of England's senior and development teams.
Is the role of Under-21s coach about winning tournaments such as those in Israel, where England performed so poorly? Is it about developing players to graduate into the senior team? Is it about both?
And what sort of coach should they appoint? What would be his remit?
When deliberations finally begin on who takes over from Pearce, there are two routes the FA could go down when it eventually decides on the new man.
One option is to go for a younger coach who has already gained his pro licence. Phil Neville, who recently retired, worked with Pearce in Israel and is clearly seen as a coach of promise while former England defender Ugo Ehiogu has joined Peter Taylor's staff for the Under-20s World Cup in Turkey.
It is unlikely the FA would opt for those with such limited experience but there is clearly a desire to provide access to England's teams for the up-and-coming coaching fraternity.
The other alternative is to appoint a more experienced figure who may or may not work with Hodgson but could oversee the development teams as Under-21s coach - and perhaps even act as a mentor for younger coaches identified by the FA.
The Under-21s coaching role has offered up something of a movable feast in the past. The new coach's relationship with Hodgson is a dynamic that must be decided.
Pearce worked with Fabio Capello but not with Steve McClaren or Hodgson. David Platt did not work directly with Sven-Goran Eriksson but Taylor worked with Glenn Hoddle when his Under-21s responsibilities allowed.
These are all matters that must be taken into consideration by the FA at this vital time.
Pearce must also have glanced wistfully at Oxlade-Chamberlain scoring in England's 2-2 draw against Brazil in the Maracana and wished the player could have joined his squad in Israel. Jones also lived the dream of playing in Rio's iconic arena rather than going with the Under-21s.
It would seem to be the perfect time for the FA to coach players, managers, clubs - and perhaps even agents - in a new culture of flexibility that might lead to players being promoted up and down when the occasion demands.
If there is a valid argument to be had about poor results for the Under-21s team then surely few would argue this point with the FA? It is not avoided in other countries.
While representing England in the Maracana is highly desirable, it might be worth stressing at the outset of an international career that there may come a time when the youngest, most talented and eligible may need to drop down to serve the development teams. Ascent to the senior ranks should not equate to permanent promotion and an end to Under-21s duties.
These are the elements the FA can control but others are out of their hands. England's hand is currently being forced by the fact that only 31.6% of starters in last season's Premier League were eligible to play for the country.
It also does not take a huge leap of the imagination to believe furrowed brows would have been easily detected at Wembley at the sight of Liverpool playing Manchester United and Arsenal facing Spurs on the weekend before September's World Cup qualifiers against Moldova and Ukraine as the new Premier League fixtures came out.
If the games are switched for television it could be that Hodgson will not be able to train with players involved until Tuesday at the earliest. The Premier League will insist these are simply the vagaries of the fixture list but Hodgson will not have been impressed.
It will make for a busy and crucial introduction for Dyke when he officially succeeds current chairman David Bernstein on 13 July.