Detained Cameroon federation president wins election
Last updated on .From the section Football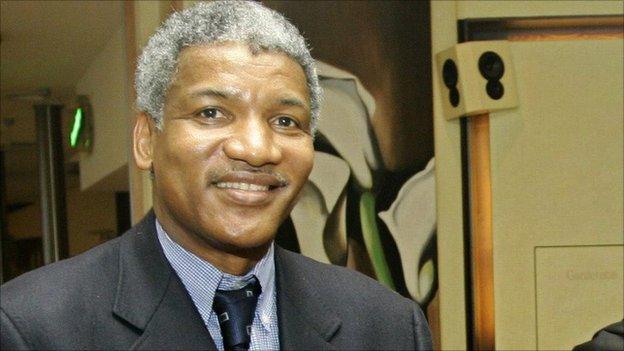 Cameroon FA (Fecafoot) president Iya Mohammed has been re-elected to the role, despite currently being detained by the country's authorities.
Mohammed was arrested on 10 June in connection with his job as director-general of the country's state-owned Cotton Development Company.
He won Wednesday's election after an initial delay, when police blocked delegates from entering the Fecafoot headquarters for the polls.
In his continuing absence, Fecafoot vice-president Mbombo Njoya will take charge of the organisation.
The elections were originally suspended by the government before football's world governing body Fifa intervened.
It threatened to suspend the country from the international game if the government continued to interfere.
Representatives of the victorious grouping within Fecafoot said the election had resolved the issue.
"What has happened has saved our nation and has protected the image of our football in Cameroon," deputy vice-president Charles Mbella Moki told the BBC's Newsday programme.
But there may yet be problems for the country, because delegates also voted to reject a deal which had been worked out between Fecafoot and the Cameroon government to resolve the row between them.
Fifa had overseen the talks, but Fecafoot delegates unanimously voted against the proposals.
It is also expected that Mohammed's election could be challenged by the defeated grouping within Fecafoot.