Newcastle United: Freddy Shepherd calls for more clarity
Last updated on .From the section Football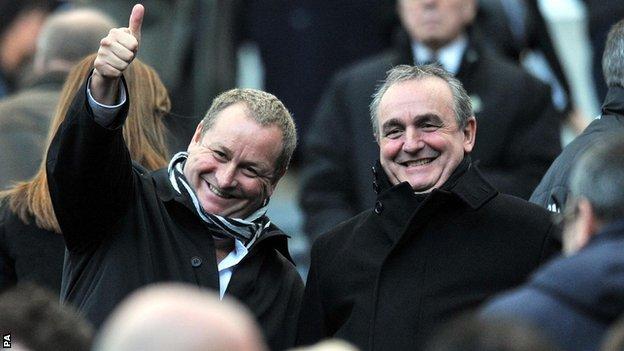 Former Newcastle United chairman Freddy Shepherd has called for more "clarity" on events surrounding the club.
That prompted fans to voice concerns about the handling of the situation.
"We need to have clarity, as supporters we all need to know what is going on with our club," Shepherd told BBC Sport.
"The reports I am getting is that everyone is confused to say the least."
Kinnear was Newcastle manager between September 2008 and February 2009 before his stint came to an end after he was taken ill with heart problems.
The 66-year-old has now returned to take charge of all football-related matters at the club.
His return generated controversy, with the Tyneside outfit initially failing to confirm the appointment and supporters voicing their concerns about the news.
In a statement on Tuesday, Llambias said he was "pleased to welcome Joe back" but 24 hours later he resigned.
Llambias, who had worked closely with owner Ashley since 2007, did not give any reasons for his decision to leave St James' Park.
Shepherd sold his stake in the Premier League club to Mike Ashley in 2007, before heading a consortium to try to buy the club back in June 2009.
And he added that Kinnear was not an appointment he would have considered for the club.
"I don't know the guy very well at all so it's very hard for me to say whether I would employ him or not but I don't think so.
"He is 60 odd. At least with Pardew he has youth on his side but what's the future. I think in football these days you need someone a bit younger than that."
Shepherd refused to rule out returning to the St James' board in the future, adding: "You never say never and we will have to wait and see what happens.
"I don't know if Mike is in the mood to sell or not or if he wants to hold on to it but he has certainly changed the running of the club, that's for sure."