Blackpool secretary hits out at Football League fixture policy
Last updated on .From the section Football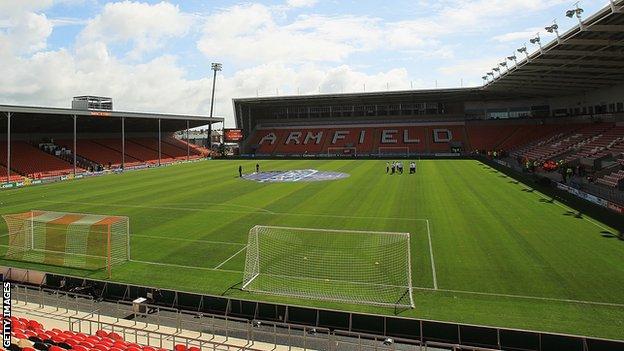 Blackpool secretary Matt Williams has described the Football League's fixture scheduling policy as "farcical".
Williams revealed to BBC Radio Lancashire that he had been told by the Football League they were now looking to maximise Saturday attendances.
As a result, the Tangerines face a number of long trips for matches on a Tuesday, including journeys to Yeovil, Millwall and Reading next season.
"I really, really feel sorry for the supporters," he said.
"It's farcical, to be fair. You look at the midweek away fixtures, we've got some real local ones at Millwall, Yeovil and Reading.
"It is a complete policy shift from previous years where the Football League, where possible, tried to make it only a maximum two-and-a-half-hour journey so supporters can get to the game."
Williams, who has previously sat on the special fixture panels, said he was unaware of the change in policy and that the Bloomfield Road side have subsequently made a complaint, although he conceded he did not expect anything to change this season.
"I questioned the Football League how they expect supporters to make these long trips on a Tuesday night and they said they've had a change of policy to try and maximise attendances on a Saturday," he explained.
"Many people love a trip to Somerset and Yeovil, and Millwall they make a weekend of it in the capital and the same with Reading.
"A standard overnight trip probably costs the club around £2,500, plus the costs of your coach or train or whatever.
"So when you start staying down on the Saturday night, Sunday and Monday, you are running into full board in four-star hotels which aren't cheap.
"It's something we're going to have to discuss internally and it's just amazing that the League have not had the common sense to be flexible."