Swansea City begin against champions Manchester United
Last updated on .From the section Football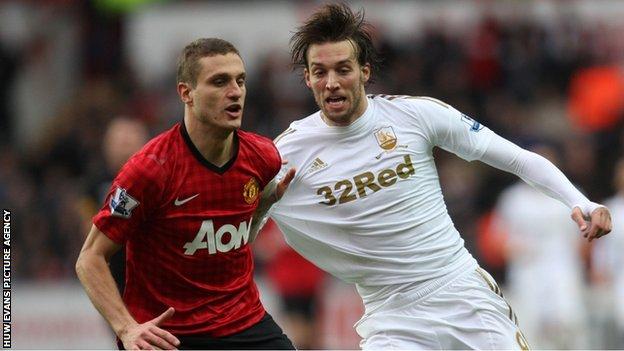 Swansea City host champions Manchester United in the opening match of next season's Premier League on 17 August.
Michael Laudrup's side face newly promoted Cardiff City in two Welsh derbies, playing the Bluebirds away on the weekend of 2 November and then at the Liberty Stadium on 8 February.
Swans fans face a trip to Chelsea on Boxing Day, with Manchester City arriving in Wales on New Year's Day.
Sunderland away is the final fixture of the 2013/14 league season on 11 May.
Swansea City Premier League fixtures 2013/14 (subject to change):
Sat Aug 17 Manchester United H
Sat Aug 24 Tottenham Hotspur A
Sat Aug 31 West Bromwich Albion A
Sat Sep 14 Liverpool H
Sat Sep 21 Crystal Palace A
Sat Sep 28 Arsenal H
Sat Oct 5 Southampton A
Sat Oct 19 Sunderland H
Sat Oct 26 West Ham United H
Sat Nov 2 Cardiff City A
Sat Nov 9 Stoke City H
Sat Nov 23 Fulham A
Sat Nov 30 Manchester City A
Tue Dec 3 Newcastle United H
Sat Dec 7 Hull City H
Sat Dec 14 Norwich City A
Sat Dec 21 Everton H
Thu Dec 26 Chelsea A
Sat Dec 28 Aston Villa A
Wed Jan 1 Manchester City H
Sat Jan 11 Manchester United A
Sat Jan 18 Tottenham Hotspur H
Tue Jan 28 Fulham H
Sat Feb 1 West Ham United A
Sat Feb 8 Cardiff City H
Tue Feb 11 Stoke City A
Sat Feb 15 FA Cup 5
Sat Feb 22 Liverpool A
Sat Mar 1 Crystal Palace H
Sat Mar 8 Arsenal A
Sat Mar 15 West Bromwich Albion H
Sat Mar 22 Everton A
Sat Mar 29 Norwich City H
Sat Apr 5 Hull City A
Sat Apr 12 Chelsea H
Sat Apr 19 Newcastle United A
Sat Apr 26 Aston Villa H
Sat May 3 Southampton H
Sun May 11 Sunderland A