Confederations Cup: Scolari calls for calm from protestors

By Ben Smith
BBC Sport in Fortaleza
Last updated on .From the section Football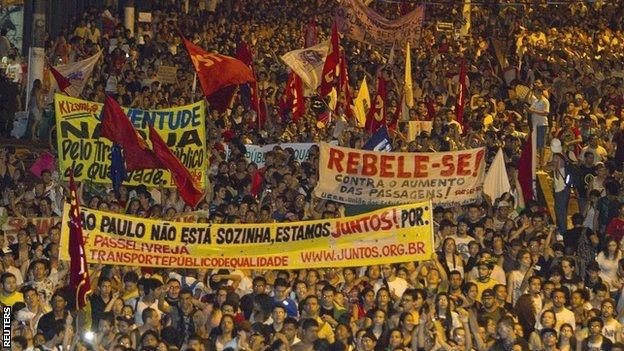 Brazil coach Luiz Felipe Scolari has called for protesters to remain calm after demonstrations rocked the country during the Confederations Cup.
"It is normal in a democracy to accept demonstrations and for them to be seen and heard by the government," he said.
"My wish is that they stay peaceful and democratic."
Tens of thousands of people have protested across Brazil about the high cost of the tournament and next year's World Cup, in a country still lacking in public services.
On Monday night, protesters gathered outside the Brazil squad's hotel in Fortaleza, where their next match will take place. Further protests are expected in the city on Tuesday night and at Wednesday's game against Mexico.
Brazilian President Dilma Rousseff has said she is proud of the demonstrations, saying it signalled the strength of the country's democracy.
And Scolari, 64, said he did not think it would reflect badly on Brazil despite the international headlines.
"I realise that the rest of the world might be talking about the protests but they may also be talking about something that is not the reality in Brazil," he added. "Before the Olympic Games you saw a lot of protests and problems in London and England didn't stop organising the Games.
"People didn't stop thinking good things about England. In some situations we and the rest of the world have to understand the protesters, it is a democracy."
Chelsea and Brazil defender David Luiz and striker Hulk also said they sympathised with the demonstrators.
"People are entitled to express their opinions and to protest if they are not happy," Luiz said. "Only in this way we will see the errors and improve. Brazil has everything to grow and be a better."
Hulk added: "Of course, I grew up poor and even if, thank God, I am better off today I can understand these protests - they make sense. We have to listen to them. Brazil can improve in many things."
Following on from Monday's incidents, there have even been suggestions that the protestors will attempt to gain access to the stadium to disrupt the match.
But Scolari responded by asking: "What can I do about it? Can I stop people getting in? Can I work on opening doors and closing doors. No.
"We have to leave it to the authorities and they must handle those things as best they can. We have to do our work. We can have our opinions but it can't interfere with our work."
Meanwhile, Neymar has overcome a slight back problem and will start against Mexico as Scolari names an unchanged team from the one that beat Japan 3-0 in Brasilia on Saturday.