European U21 Championship: Spain's future in safe hands
By Andy West
European football writer
Last updated on .From the section Football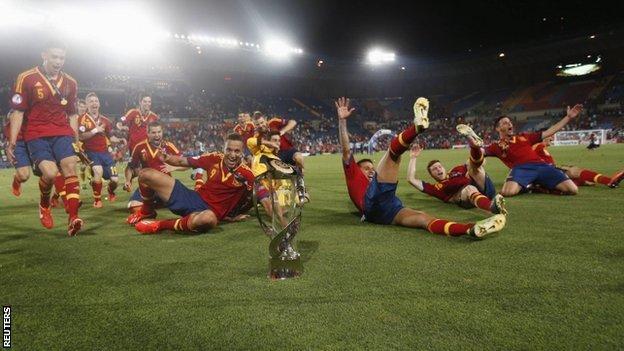 Although there are many admirable strengths and qualities in Spain's reigning world and European champions, arguably the fundamental basis of the team's success over the last few years has been the midfield quartet of Sergio Busquets, Xabi Alonso, Xavi and Andres Iniesta.
With Busquets calmly protecting the back four, Alonso alongside him to arrow pinpoint passes all over the park, Xavi providing a smooth and stylish link between midfield and attack, and Iniesta weaving his mercurial magic around the edge of the penalty area, those four players have won a combined total of 369 international caps to lay the foundations for a magnificent team.
The bad news for 'La Roja' (and the good news for the rest of the world) is that three of the group - Alonso (aged 31), Xavi (33) and Iniesta (29) - will probably all be playing in their last World Cup finals in Brazil next summer. The current team is approaching the final straight of its memorable era.
However, Spain's mightily impressive European Under-21 Championship campaign - culminating in Tuesday's emphatic 4-2 victory over Italy - strongly suggested that ready-made replacements are waiting in the wings, with this week's title-winners powered by a trio of midfielders who bear remarkable similarities to the players in need of replacing.
They are not exact replicas - nobody ever could be - but these three young men are poised to become major stars in their own right.
Step forward Asier Illarramendi, Thiago Alcantara and Isco.
THE NEW XABI ALONSO: ASIER ILLARRAMENDI
A classy, composed, ball-playing midfielder who started his career with local club Real Sociedad, rising to fame by playing a key role in their surge to Champions League qualification.
Those words can be equally applied to both Xabi Alonso, whose reputation blossomed during Sociedad's La Liga runners-up campaign in 2002-03 before departing for Liverpool, and Illarramendi, the midfield driving force behind the Basque club's hugely unexpected fourth-place finish last season.
Illarramendi is one of the more unsung members of the Under-21 side's success in Israel, but for many observers he was also the most important, and it has been no surprise to see a club of Arsenal's calibre linked with his signature in the aftermath of Spain's success in Israel.
Like Alonso, he is the heartbeat of the team, sitting in front of the back four to dictate the game's flow and tempo with a wonderful range of passing.
His selfless discipline and positional sense provide a firm base for the team's more attacking players to perform with freedom, and the first of many senior international caps is surely just a matter of time.
THE NEW XAVI: THIAGO ALCANTARA
To say that Barcelona midfielder Thiago comes from a footballing background is an understatement: his father Mazinho was a Brazil international who won the World Cup in 1994 and his younger brother Rafael - better known as Rafinha - is another product of the Barcelona academy who has made a handful of first team appearances so far.
Thiago was born in Italy during his father's playing spell with Lecce, later spent much of his childhood in Brazil and finally moved to Spain as a teenager, progressing through Barca's famed youth system to make his first team debut a month after his 18th birthday.
He captained the Under-21s during this month's triumphant European Championship campaign, catching the headlines with a first-half 'connoisseur's hat-trick' (head, left foot, right foot) in Tuesday's 4-2 victory over Italy in the final.
That performance was somewhat misleading because goalscoring isn't usually Thiago's forte - he has only once previously managed a two-goal haul in a senior game, never mind a hat-trick.
But the 22-year-old is an astonishingly adept technician, possessing a sublime first touch and all the flicks, tricks, stepovers and turns in the book. He's also a wonderful passer, albeit occasionally a little too ambitious, and has long been regarded by Nou Camp insiders as Xavi's natural heir.
However, Thiago has become frustrated with his inability to establish a regular starting place for Barca and his failure to play in 60% of this season's fixtures means that the buy-out clause in his contract has dropped from a prohibitive 90m Euros to a bargain-basement 18m.
Manchester United and Bayern Munich are among those battling it out for his signature, while the Catalan media has started a belated campaign to encourage him to stay.
Even the man who has effectively blocked his path to more regular first team football, the legendary Xavi, was recently moved to eulogise the young star, enthusing: "Thiago is an extraordinary player. He is not just a player for the future, but someone who can make an impact right now as well.
"I'd advise Thiago to stay patient because he is bound to be a success at Barca."
Unfortunately for Barcelona, those pleas will probably fall on deaf ears, with Thiago expected to confirm his decision to leave the Nou Camp in the near future.
THE NEW ANDRES INIESTA: ISCO
Winner of the 2012 'Golden Boy' award for the best young player in Europe; winner of the 2011-12 La Liga Breakthrough Player award; winner of the 2013 European Under 21 Championship MVP award... Francisco Roman Alarcon Suarez is a very, very special talent.
Isco is a lifelong Barcelona fan and has a dog called Messi, but he grew up idolising Andres Iniesta - and it shows.
Like his hero, the Malaga star is a mesmerising dribbler who possesses balletic balance and can slice open any defence with a sudden burst infield from the left wing followed by a perfectly released pass or accurately curled shot.
Frighteningly, one area where he's even better than Iniesta is goalscoring. He registered a total of 17 goals for club and country last season, including three in the Under-21 Championship and three more in Malaga's magnificent march to the Champions League quarter-finals.
His talents are such that the 35m Euros buy-out clause in his Malaga contract is nowhere near enough to deter potential suitors, with Manchester City and Real Madrid in the driving seat to secure his services.
Earlier this week, Isco admitted that offers from those two clubs "are on the table" and his future will probably be decided by the end of June, with the current expectation being that he will follow former Malaga manager Manuel Pellegrini to Etihad Stadium. If that happens, City fans are in for an absolute treat.
The move will receive the blessing of his old dressing room, with even one of his team-mates, defender Weligton, recently admitting that Isco is simply too good for Malaga.
"Isco deserves to be at a superior club," the veteran Brazilian stated. "For his talent and his age, it is the right time for him to leave."
With Illarramendi, Thiago and Isco among those ready to make the step up to senior international level, it's clear the Spanish supply of talent is showing no signs of coming to an end.
And it doesn't stop there: the Fifa Under-20 World Cup gets under way in Turkey this weekend. The clear pre-tournament favourites? Spain, of course.