Q&A: Hearts in crisis
By Keir Murray and Brian McLauchlin
BBC Sport Scotland
Last updated on .From the section Football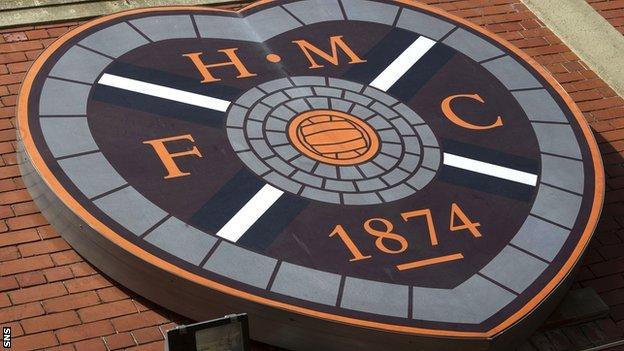 Hearts face an uncertain future. Last weekend the Scottish Premier League club's lawyers informed the three directors of their legal duty to go to court if they knew their business could not continue to trade in a solvent manner.
The club lodged papers with the Court of Session in Edinburgh to place them in administration, with £25m owed to Lithuanian businesses connected to owner Vladimir Romanov and with payments due to Her Majesty's Revenue and Customs and Hearts staff.
Financial company BDO has been appointed administrator, and
Here, BBC Sport Scotland tries to clarify what's going on at the Tynecastle club.
Why did Hearts apply to enter administration?
Put simply, Hearts cannot pay their bills. Their debts to parent company Ukio Banko Investicine Grupe (UBIG) and Ukio Bankas total £10m and £15m respectively. Ukio Bankas hold the club's Tynecastle Stadium as security over that debt.
UBIG itself is claiming insolvency in Lithuania. Its assets have been frozen.
Last week it lost an appeal against being liquidated and its business is now being controlled by Lithuanian administrator UAB Valnetas.
Her Majesty's Revenue and Customs recently threatened a winding-up order if the club did not pay £100,000 in backdated PAYE. In addition, they are due to pay a significant six-figure sum to HMRC on 21 June and must settle a VAT bill at the end of this month.
Further, to be paid in three equal instalments over three years for tax and National Insurance payments that were paid through the Lithuanian tax system instead of the UK's.
Also, their inability to pay their players their wages for this month resulted in
The non-playing staff at the club are due to be paid on 24 June but no funds are available.
Hearts say lower than expected season ticket sales - about 6,500 as at last week - has caused a shortfall in cash. They say that if they had sold 2,000 more season books for the forthcoming campaign then they would have had enough cash to tide them over to the start of season 2013-14.
The club say their financial problems have been exacerbated by their worst league finish in more than 30 years (10th in SPL), the absence of Rangers from the league and increased costs relating to their main stand.
The club are in administration, what happens now?
Typically, the court-appointed administrator's task is to maximise the return for the creditors. Administrators usually look to cut costs and generate income by selling assets. It may argue that keeping the assets intact offers a better return for the creditors.
The possible outcomes are that Hearts continue for months in administration, a route out of administration is effected by a Company Voluntary Arrangement (CVA) being agreed, offering creditors a pence-in-the-pound deal, or that Heart of Midlothian plc is liquidated.
A CVA can only be granted if it is approved by creditors who are owed at least 75% of the debt.
If liquidation follows, as happened with Rangers last season, a party could purchase the assets of the plc and apply to the Scottish Football Association for a licence to operate the club next season, or in the future.
Who actually owns Hearts?
The club is owned by a number of parties. UBIG, which was owned by Romanov, owns 50% of the shares, having first invested in the club in 2004. Ukio Bankas, based in Kaunas, owns 29.9%. Of the remainder, about 15% is owned by Quantum Holding SA and about 5% by a number of small investors.
Who are Hearts' directors?
There are three directors - Vladimir's son Roman Romanov, who has not played a part in the running of the club for some years; Vladimir Romanov's right-hand man Sergejus Fedotovas, who has been in control of the club most recently and whose relationship with Vladimir is now frosty; and Vitalijus Vasiliauskas, who was in Scotland on Monday and who signed the documents that were filed in court that afternoon.
What will happen to Tynecastle Stadium?
This, of course, is a major concern for the Hearts fans. Ukio Bankas holds a security over the stadium in the west end of Edinburgh. It is possible Ukio Bankas's administrator could sell Tynecastle to recover money for the bank's creditors. But this would make the club itself less attractive to potential buyers. The bank's administrator may wish to keep the stadium and other assets together.
He said: "Our initial assessment indicates that most likely the most extensive return for Ukio Bankas creditors may be achieved by keeping the club operating."
Is it a surprise that Hearts are in such a predicament?
It has been clear that the debt levels were unsustainable, as was the continued ratio of spending on wages relative to turnover - at more than 100% during much of Romanov's period in charge.
, citing a disenchantment with football, and the club placed a greater emphasis on developing their own players.
In late 2011 news began to emerge of players not being paid their salaries in full on time.
, the fifth time in recent years that the club had faced legal action over unpaid tax.
How many people do Hearts employ?
There were 131 staff in total. On the playing side there are 26 staff with a further 10 set to join from the youth set-up. The club employed 30 full-time and 65 part-time backroom personnel.
Administrator Bryan Jackson announced on Thursday that 14 members of staff, nine full-time and five part-time, would lose their jobs. Jackson also said that two senior players and two youth players were also likely to be made redundant.
How many fans do Hearts have?
, making them the second-best attended team in the league, behind Celtic. The Gorgie faithful responded well to pleas from the board to pack the stadium but the dip in season ticket sales suggests fans are wary about forking out with the club's future uncertain.
Didn't Hearts hold a share issue recently?
Indeed. Last October the club launched a scheme where fans could purchase shares in exchange for 10% of owner Vladimir Romanov's holding. Hearts set a target of £1.79m but gathered £1.05m by the closing date in December.
So what happens to those newly issued shares?
If the administrators go for a CVA, the investors would get a pence-in-the-pound deal for their shares. If a CVA is rejected and Hearts go the way of Rangers, shareholders (and any debenture holders) would receive nothing when the plc is liquidated.
What happens to their place in the Scottish Premier League?
Hearts own a share in the Scottish Premier League, the top tier in Scottish football. The SPL and Scottish Football League will soon become the Scottish Professional Football League and all 42 of its members will have a share in the new league. As soon as Hearts entered administration - an "insolvency event" as defined by the SPL - they lost a third of their points total from last season for the beginning of season 2013-14. That equates to a deduction of 15 points (one-third of 44 points, rounded up).
If they continue to be unable to register new players and their best players leave during administration, manager Gary Locke will be hard pressed to field a team capable of staying in the top league, especially with the points penalty.
Is there a danger Hearts won't exist next season?
It would be a surprise if Hearts do not exist in some form next season. Should they agree a CVA, they would play in the SPFL top tier next season with a 15-point penalty.
If they fail to agree a CVA they could stay in administration or liquidation could follow. At that point, parties could buy the club's assets - players, Tynecastle Stadium, SPL/SPFL share, Scottish Football Association membership - and apply to play in the new SPFL.
Is there anyone interested in buying the club?
However, one of the three interested parties that are based in North America has pulled out. The group from New York had been in contact with the administrators of Ukio Bankas in an attempt to gain exclusivity on a potential bid but has withdrawn partly because of the decision by the club to enter administration, but also because of the uncertainty over UBIG's 50% shareholding.
The two remaining North American parties are joined by two UK-based groups, including the Foundation of Hearts, which is pushing for fans' ownership and is led by its chairman, Ian Murray MP.
Administrator Trevor Birch said at a press conference there were "three or four" parties interested in buying the club.