Torquay United appoint Chris Brass as assistant manager
By Brent Pilnick
BBC South West Sport
Last updated on .From the section Football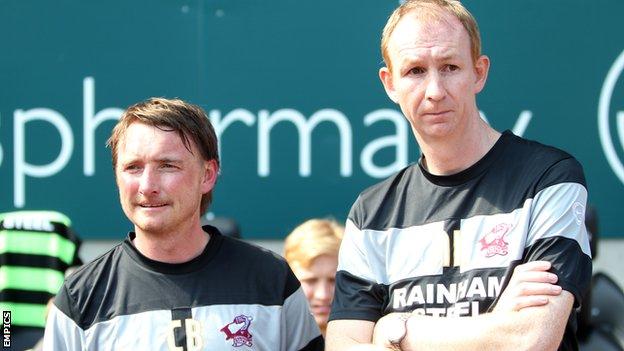 Torquay United manager Alan Knill has confirmed Chris Brass as his assistant.
The 37-year-old former York City boss was Knill's number two when he was and previously when he was in charge at Scunthorpe United and Bury.
The club has yet to announce what will happen to former manager Martin Ling's assistant Shaun Taylor.
The former Exeter and Swindon defender has been on gardening leave since
"I've spoken with a few people and there was a bit of a smokescreen that I was going to go elsewhere," Brass told BBC South West Sport.
"I had the opportunity to, but for a multitude of reasons I've chosen to continue with the job that I helped with Alan last season."
Brass, who played 10 games for Torquay in a loan spell in 1994, was appointed as York player-manager in June 2003 at the age of 27, but they were relegated to the Conference the following summer.
He was relieved of his managerial duties in November 2004 after a series of poor results, but had a short spell as caretaker boss of Bury in 2008 before being appointed as Knill's assistant at Gigg Lane in January 2009.
When Brass moved to Glandford Park with him.
"We've got a got bit of mutual respect on a professional level," Brass said of their relationship.
"When he initially came down to Torquay I wasn't in a position to come down.
"He was here to hold the reigns and work alongside the staff in place, so it wasn't until later that he had an insight into the club and needed an extra pair of hands.
"When I took the job last season it wasn't to be sat in the position I am now, the bigger picture was had Torquay gone out of the league it would have been tough for them to come back from it."
The pair aiming to ensure the club improves from an indifferent 2012-13 campaign when, after Ling left the club due to illness at the end of January, they failed to win in 11 games, losing nine.
"On and off the pitch we'll be looking at all sorts of things to make the club better.
"We both see the potential to make this club better, not for ourselves, but whenever we leave, we leave behind a better club than when we walked in," Brass added.
"We've both got something to prove after our last jobs and that hunger will drive us on."