Newcastle United: Joe Kinnear 'more intelligent' than critics
Last updated on .From the section Football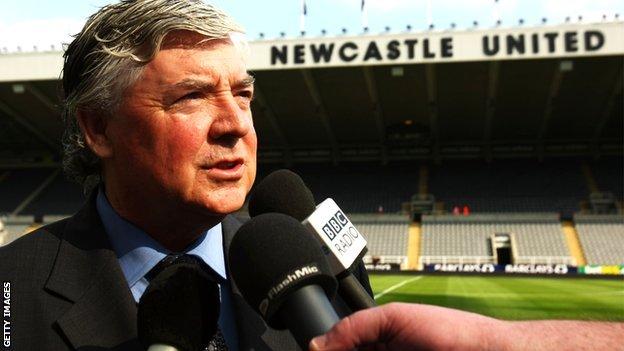 Joe Kinnear says he has "more intelligence" than the critics who have questioned his appointment as Newcastle's new director of football.
Kinnear's spell as Newcastle boss was ended by a heart attack and some fans and media have criticised his return.
But he told talkSPORT: "I've certainly got more intelligence than them."
During the 15-minute interview, Kinnear:
Refused to accept criticism of his credentials, saying he could "open the door to any manager in the world".

Said he wasn't a threat to manager Alan Pardew.

Said he had won three manager of the year awards, when he actually won one at Wimbledon in 1994.

Incorrectly said he had signed goalkeeper Tim Krul, who was

brought to the club by Graeme Souness in 2005

.

Mispronounced several players' names, including calling Newcastle managing director Derek Llambias "Lambazi", Yohan Cabaye "Yohan Cabab" and Shola Ameobi "Shola Amamobi".
At the end of the interview Kinnear was asked if he wanted to "say anything personally to the Newcastle fans who perhaps don't back this decision". He replied: "To all the fans who don't agree with this decision, shall I bring Llambias back in? What do you want? What do they want?
"I heard a silly comment of 'what can I attract?'. I can open the door to any manager in the world, anyone, that's the difference. I've spent my whole life talking to Alex Ferguson, week in, week out.
"I can pick the phone up at any time of the day and speak to [Arsenal manager] Arsene Wenger, any manager in the league. In all the divisions.
"I don't know what angle they've [critics] got, if they want to sit down and argue with me. Some are talking out of their backsides, a load of tosh. I'm not accepting it, as simple as that. I have certainly got more intelligence than them, that's for sure."
Kinnear revealed his appointment in an interview with Sky Sports News on Sunday, but the club did not confirm his arrival until Tuesday.
His first stint at Newcastle lasted just over four months and was marked by a fractious relationship with journalists. Some have criticised his return. Mark Jensen, editor of fanzine The Mag, said he was "amazed and astounded" that the former Wimbledon boss was coming back to the club.
But Kinnear said he would never forget the support of fans after his heart attack in 2009.
The former Tottenham player said: "I got over 10,000 letters when I had my heart attack, I felt very proud of that and thought I did an excellent job.
"A lot of Geordies are influenced by the media set, because I stood up to 100 journalists that night. It was the same night we beat Tottenham 2-1. The journalists always had it in ... many of the Geordie fans were sucked in."