Dunfermline's administrators receive two bids

Last updated on .From the section Football18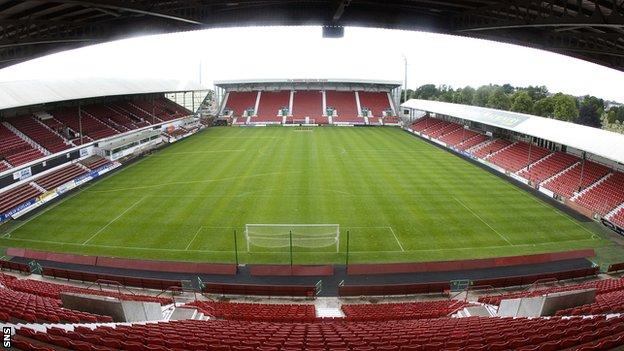 Scottish Division Two side Dunfermline have received two bids as they seek a route out of administration.
Administrators BDO have confirmed that supporters group Pars United and a second, un-named, party have submitted bids to buy the club and East End Park.
The Pars have been in administration since March, with debts of £8.5m owed to majority shareholder Gavin Masterton and other companies.
Pars United is confident it can agree a company voluntary arrangement [CVA].
Administrator Bryan Jackson plans to meet with the club's creditors after Tuesday's deadline for bids to discuss a CVA, which, to be successful, requires creditors representing 75% of the debt to approve it.
A provisional date of 12 July has been set for such a vote when BDO would offer a pence-in-the-pound deal to those owed money.
The Pars were put into administration in a bid to stave off a winding-up order launched by HM Revenue and Customs over a £134,000 tax bill.
A deadline of noon on Tuesday was in place for offers and the Pars United bid came in just before then.
However, a late, rival bid came in later in the day and Jackson has confirmed to BBC Scotland that both are now under consideration.
He said he "will probably need to negotiate conditions with both parties in conjunction with other administrators".
Bob Garmory of Pars United told BBC Radio Scotland on Tuesday evening: "We made a bid for the club that involved a certain amount of money for the CVA and a certain amount of money to take care of outstanding debts which have been accrued to staff and other football clubs.
"We also put together which allows for some working capital to take the club forward through to next season.
"We've managed to secure some funding from fans and from investors who happen to be Dunfermline fans and we have put two bids together, one for the ground and one for the club.
"The other bid may be a better bid in financial terms than our bid.
"But I think it is very strange that anybody who would want to buy a football club doesn't engage with its customer base, the fans. I find that a somewhat unique business model.
"We will find out tomorrow what is being proposed to the creditors and then we've got one month to hopefully exit administration with the CVA being accepted and then Pars United will take forward the ownership of Dunfermline Athletic Football Club."