Hearts: SPL side to enter administration

By Brian McLauchlin
BBC Scotland
Last updated on .From the section Football652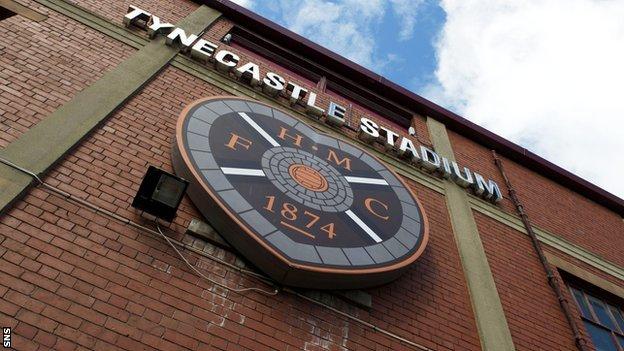 Hearts have served notice of their intention to appoint an administrator.
The Edinburgh club have debts of £25m - owed to Lithuanian-based companies formerly owned by Vladimir Romanov - who are themselves facing insolvency.
Last week, the entire Tynecastle squad was put up for sale, with Hearts seeking £500,000 to keep them running over the summer.
It means Hearts will start next season in the top flight with a deduction of 15 points.
Papers have been lodged with the court of session in Edinburgh to formally begin the process.
KPMG will be the company taking on the administration, while most staff have been informed of the situation, although many players are away on holiday.
Hearts employ 131 people, including a first-team pool of 26, with 10 players remaining in the youth set-up.
Players were not paid last week and the Scottish Premier League outfit then placed their entire squad up for sale,.
That followed the threat of a winding-up order after HM Revenue and Customs threatened action over an unpaid £100,000 tax bill, although the majority of that sum has been paid.
Hearts owe £15m to Ukio Bankas, which has been declared bankrupt.
The liquidator of the Lithuanian bank can sell the 29.9% shareholding it has in Hearts as well as Tynecastle Stadium, which was held as security for the debt.
In addition, another £10m is due to the club's parent company, UBIG - which has close to 50% of the shares and is claiming insolvency.
A liquidator with the power to sell UBIG's Hearts shares will only be appointed if the company's bankruptcy is formalised.
All the assets of UBIG have been frozen by the Lithuanian courts.
Both companies were once controlled by Romanov, who first invested in Hearts in 2005.
At least six parties have expressed an interest in a potential takeover but with ownership of the club so complicated it has hindered any development.
Top-flight rules state any club suffering an insolvency event will be stripped of 10 points or a third of their previous season's tally, whichever is the greater. Hearts finished the last campaign in 10th place with 45 points.
Hearts avoided a points deduction and possible relegation in May after the SPL decided the club's financial problems had not breached its rules before the end of the season.