Brighton: Gus Poyet disciplinary hearing is adjourned
Last updated on .From the section Football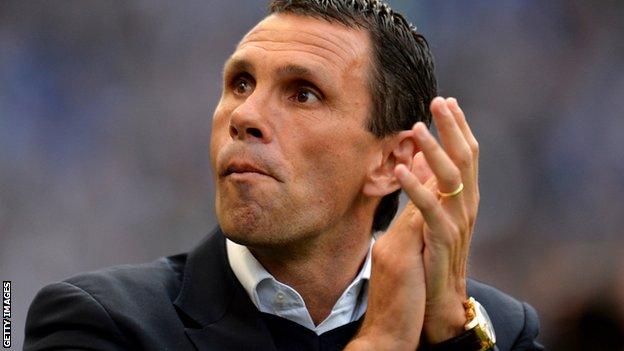 Brighton boss Gus Poyet's disciplinary hearing has been adjourned until Thursday after he did not attend.
He stayed away "for disputed legal reasons" according to a club statement.
The League Managers' Association has since explained that Poyet only returned from annual leave on Sunday.
"He only returned from annual leave yesterday and the charges were not particularised until 13 June. Further, the very lengthy appendices to the initial report comprise around 500 pages and these were also only delivered recently," an LMA statement read.
"Also, it has repeatedly been made clear to the club that Gus's LMA representative, Richard Bevan was not available to accompany him today, but was available to attend on Thursday or Friday."
Brighton's separate internal process involving former Albion player Oatway continues.
Over the weekend, Poyet suggested that he hoped his future would be resolved as soon as possible.
He told BBC Match of the Day: "Unfortunately, we cannot comment for legal reasons.
"We need to wait and see. I hope it's going to be resolved this week."
Asked if, with hindsight, he would have conducted himself differently, Poyet replied: "No. It's me. It's the way I am.
"I'm a coach, I'm an honest person. I work the way I do and everybody knows how I treat the players.
"It's a difficult situation for me. I think when we have news it's going to be easier for everybody to talk."