Cecafa to begin in Sudan's Darfur and Kordofan despite unrest
By Andrew Jackson Oryada
BBC Sport
Last updated on .From the section Football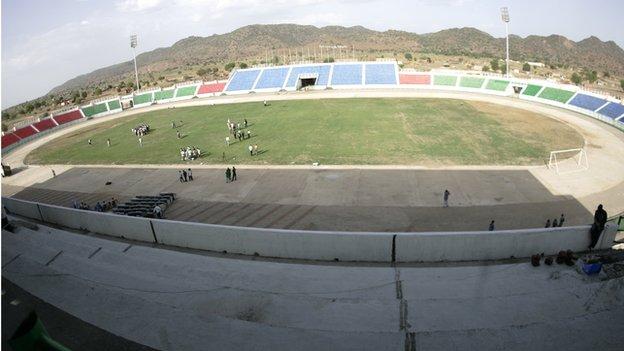 East and central Africa's regional Cecafa Club Championship is set to kick off in Sudan's South Kordofan State on Tuesday despite continued security concerns.
Cecafa secretary general, Nicholas Musonye, flew to South Kordofan on Sunday with a delegation of Sudanese officials from Khartoum to ensure kick-off goes ahead as planned.
The officials urged people to support the event as security at all the games will be very tight.
Musonye also pointed out that Al Nasr from South Sudan had tried to reverse its earlier decision not to participate but their request had come to late.
There is an ongoing rebellion in South Kordofan and the state capital, Kadugli, where the opening match will be played, has been shelled several times over the past year.
On Friday, shells killed a UN peacekeeper in the city.
A separate conflict broke out in Darfur a decade ago and although the rebellion has subsided, the area is still home to numerous armed groups and bandits.
North Darfur capital Fasher, which is hosting several matches, is home to the joint UN-African Union mission, which is trying to bring peace to the region.
The people of South Kordofan's main city, Kadugli, are gearing up to host its first ever international event.
Match officials and referees arrived in the city on Sunday evening and paid a visit to the Governor Ahmed Harun at his residence.
Musonye also met Harun and the Local Organising Committee at the new 25,000 seater stadium in the city, which will host the opening match between El Hilal Kadugli and URA of Uganda.
He insisted that they awarded the event to South Kordofan and North Darfur in good faith and criticised the teams who chose not to take part.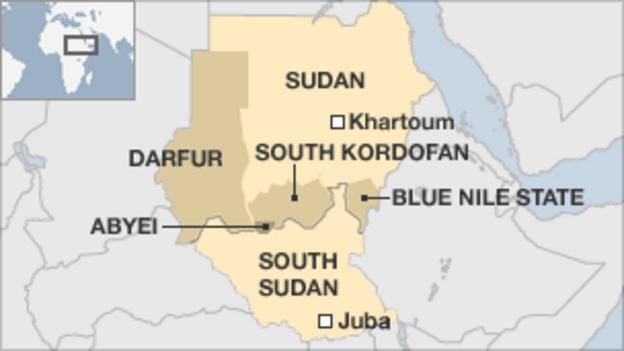 "They should shut up instead of undermining the tournament," he added.
URA captain Augustine Nsumba said he found Kadugli to be a "very safe place" and said his team had had a wonderful reception.
El Hilal Kadugli captain Hamza Othman said that hosting the tournament meant it had a special meaning for the team, bringing a "great responsibility".
The tournament goes ahead without several other big names from the region, with Kenya's Tusker and Simba of Tanzania all withdrawing over security concerns.
Ethiopia's St George, Al Merreikh and Al Hilal from Sudan decided against taking part due to busy playing schedules.
The SPLM-North rebels are active in both South Kordofan and neighbouring Blue Nile states.
They fought alongside rebels from South Sudan for many years but after the South's independence in 2011, found themselves north of the new border.
Groups:
A: El Merreikh El Fasher (Sudan), APR (Rwanda), Vital'O (Burundi), Elman (Somalia)
B: Rayon Sport (Rwanda), Express (Uganda), Ports (Djibouti), Electric Sport (Chad)
C: Al Hilala Kadugli (Sudan), Al Ahly Shandy (Sudan), URA FC (Uganda)