Brazilians mesmerised by Spain's portrayal of the beautiful game
Last updated on .From the section Football288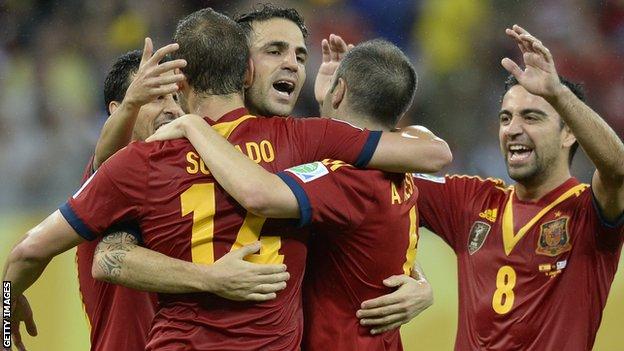 Recently when I was doing a Brazilian TV show the local journalists were discussing how strange it was that their country was about to host a major event.
In a way, they were feeling cheated. They would not even need their passports. Instead of venturing out to discover the world, the world was coming to discover them.
Brazil's World Cup dress rehearsal, the Confederations Cup, is full of startling new experiences: unfamiliar new stadiums, different teams, and even the Brazilian population throwing off their customary passivity in a wave of protests.
For the international media, a visit to Brazil - especially for the first time - fills the senses and leaves journalists groping for traditional clichés about sunshine, beaches and samba.
On Sunday night, however, the boot was on the other foot. In Recife's new stadium it was time for a Brazilian crowd to get to know Spain. And there was an obvious cliché to reach for, every bit as banal as all the samba stuff, but nevertheless appropriate - the panache with which the little Spaniards run rings round their opponents immediately brings bullfighting to mind.
Perspective is a powerful thing. For those well versed in European football, Spain's 2-1 win over Uruguay may even have had the feel of a testimonial. But for the locals, and for me, it was much more impressive.
A young Brazilian came up to me at half time to say that in all the 17 years he had been going to stadiums he had never seen anything like the display Spain put on in the first 45 minutes.
I have to confess that I found it mesmerising. Watching it unfold in front of you is different from following on the TV. Up close, Spain's possession is a controlled exercise in geometry, a constant formation of triangles, each one opening up new possibilities, the ball given and received at fascinating angles.
Andres Iniesta can glide and turn and instantly deliver a pass in a full arc of 360 degrees. It is also geometry at varying speeds, because when gaps appear there will be a sudden surge of velocity. In the early stages, unused to such speed, I was having huge problems reconstructing the moves in my mind.
There was a moment when Xavi brought a gasp followed by applause from the crowd in response to a breathtaking piece of control. I would wager that the player himself was more concerned that his next touch was a crossfield pass that went wrong, and opened up possibilities for a Uruguayan counter-attack. "Without my team-mates my game makes no sense," he says - a gloriously concise summary of the collective football that his team put into practice.
The Brazilian conception is much more individualistic. The star player rises to the occasion and tips the balance in the big game, preferably with plenty of dribbling along the way.
A Brazil-Spain clash in the Confederations Cup final is an intriguing prospect, especially as the two teams keep finding ways to avoid each other in major tournaments.
But we are getting ahead of ourselves. First comes the fight for a place in the semi-finals, for which Uruguay will seek to beat Nigeria on Thursday. The Uruguayans are a team with sufficient experience to know that tournaments are neither won nor lost in the first match.
Indeed, the run of success the current team has enjoyed began with a defeat; in the opening game of the 2007 Copa America, Uruguay were easily picked off by Peru. It put a swift end to the plans of coach Oscar Tabarez to play a rigid 4-3-3 formation.
Ever since, Tabarez has adopted a flexible approach, swapping round his systems between and even during games. He shuffled his pack against the Spaniards. The original idea was for Gaston Ramirez to spring Luis Suarez, but Spain's pressing did not allow the Southampton player the room to get into the game, and he was replaced at the interval.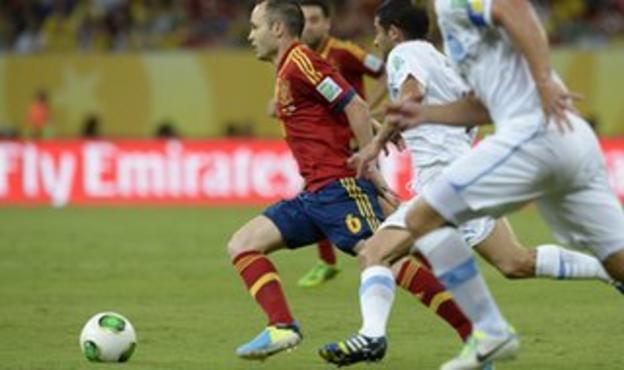 After the break, Tabarez hoped that the presence of a wide midfielder on either flank would open up space to bring Suarez into play. By the end he had given up on all his usual defensive midfielders and was hoping that little Nicolas Lodeiro could orchestrate from deep. But he was always chasing after the breeze.
Tabarez confessed after the game that the defeat could have been catastrophic, but felt that the team managed to regain some dignity with the second-half performance.
He also stressed that the Nigeria match is the vital one. It is a meeting that should be one of the highlights of the competition. The African champions are up against the first team to select Afro-descendents - the great Isabelino Gradin was top scorer when Uruguay won the inaugural Copa America in 1916.
And the match takes place in Salvador, Brazil's most African city. In this opening instalment of the meeting between Brazil and the world, there could be no more appropriate occasion.
Comments on the piece in the space provided. Questions on South American football to vickerycolumn@hotmail.com, and I'll pick out a couple for next week.
From last week's postbag;
Radamel Falcao, as Colombia's main attacking threat, has been neutralised by opposing defenders many times in their World Cup qualifying campaign. With his back to the goal, he becomes much less menacing. Do you think coach Jose Pekerman would make the switch to some of his faster strikers (Muriel, Martinez, and Bacca) or is Falcao seen as indispensable?
Jose Luis Hernandez
I think Pekerman will always go with Falcao, although, as you say, his play with his back to goal is not that great. It is no surprise that he has scored more goals when Macnelly Torres is there as a playmaker - his capacity to split the defence with a through ball brings out the best in Falcao as a front-to-goal finisher.