Kilmarnock chairman Michael Johnston discredits bid claims
Last updated on .From the section Football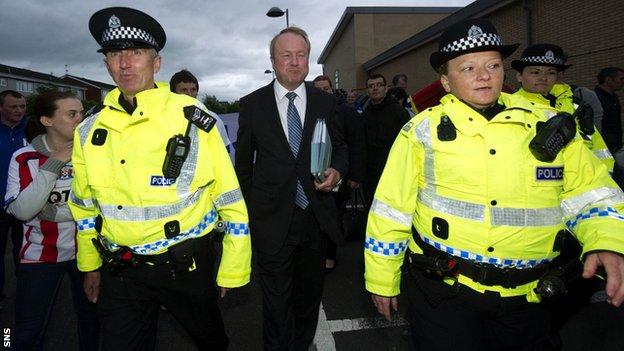 Chairman Michael Johnston denies that any offer was made for Kilmarnock from the Klin Group.
At a supporters' association gathering on Saturday, it was announced that the property company had a bid for the Ayrshire club rejected last October.
However, Johnston says that no such offer was ever tabled.
And he revealed that an invitation to Klin Group chief executive Marie Macklin to collaborate in partnership with the club was turned down.
A release from The Klin Group calls Johnston's version of events "disingenuous" and a "personal attack on someone with the best interests of the club at heart".
Some 350 fans gathered at a Rugby Park function room to discuss a campaign designed to oust Johnston from his position.
The supporters are unhappy with his stewardship of Scotland's oldest professional club and are urging local businesses to invest.
In the letter read by association chairman Sandy Armour, Macklin said that, although the offer had now been withdrawn and that the economic climate had changed since, Klin would consider any options put to it for future investment.
But Johnston released a statement saying no formal offer was submitted and there was no direct engagement from Macklin or any other Klin Group director.
And he added details of the proposal put to him that would have seen Rugby Park knocked down and the club move to a new home.
"Ms Macklin's approach was described initially as one of several 'investment opportunities' under consideration and later revealed to involve the demolition of the stadium at Rugby Park to make way for a housing development, as depicted in a plan shown to the club by her representative," read the statement.
"The club was to become the lead tenant in a new sports stadium at the former Johnnie Walker site and contribute a significant six figure sum per annum as rent.
"The project was dependent upon £80m of third party funding to develop the entire site.
"It was not clear what Ms Macklin's financial interest in the project would be.
"The approach made in 2012 was therefore lacking in formality in a legal sense; lacking in credibility in a practical sense; and lacking in vision, as it would have rendered the club a mere tenant with no assets, having been deprived of its historic home at Rugby Park."
Macklin took to Twitter after the release of Johnston's statement, saying: "I don't play games and I am not having my credibility questioned by a man who has run a club into the ground & has no credibility!"
She later added: "Mr Johnston lets have a public meeting with all the fans in attendance and discuss both our 5 year business plans."
And the Klin statement continues: "It... appears to be something of an over-reaction to our position, which is that we would consider our options should it become necessary to save the club.
"We stand by the letter sent to the supporter's association and will continue to monitor the situation around the club with concern."
Johnston was angry that he was not afforded a right of reply at the fans' group gathering and went on to criticise their campaign.
His statement concludes: "The strategy of the Supporters' Association as expressed to the media by its chairman, Sandy Armour, following the Association's AGM is contrary to the sole objective of the Association in terms of its Constitution: 'To promote the support of Kilmarnock Football Club'."