Kilmarnock supporters hope protests force chairman out
By Clive Lindsay
BBC Sport
Last updated on .From the section Football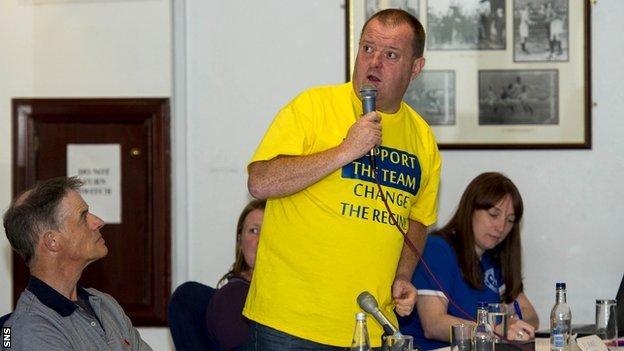 Kilmarnock's supporters' association has agreed a series of protests their chairman believes could force out owner Michael Johnston within weeks.
The association is urging the club's management committee to resign and hopes local businesses meeting next week will launch a takeover bid.
Many fans vowed not to buy season tickets among other forms of action.
"If there is enough protest, we can force a change within a matter of weeks," said Sandy Armour.
"I think he could be gone fairly quickly if there is enough pressure."
, a move that led to a spontaneous protest by supporters at Rugby Park.
It also resulted in 350 fans packing out a function room at the club's stadium, where Kilmarnock Football Club Supporters' Association chairman Armour read a letter from the Klin Group revealing that the Ayrshire property company had an offer rejected for the club in October.
In it, chief executive Marie Macklin said that, although the offer had now been withdrawn and that the economic climate had changed since, Klin would consider any options put to it by the fans for future investment.
But Armour, sporting a "support the team, change the regime" t-shirt, said that Johnston's departure would be necessary before businesses like Klin would be prepared to put money into the club.
"I also took a phone call from a third party that wanted to put a significant sum into the club if there is a change to the regime," he said.
"One man is holding back a lot of progress in this club in my opinion."
The association agreed to:
Write to the four members of the club's management committee (Johnston is the only member of the club board) urging them to resign

Liaise with business groups to rally round a figurehead capable of formulating a takeover bid

Gather the support of shareholders owning 10% of the club (Johnston has an 83% stake) to force an emergency meeting

Launch a petition calling for regime change at Rugby Park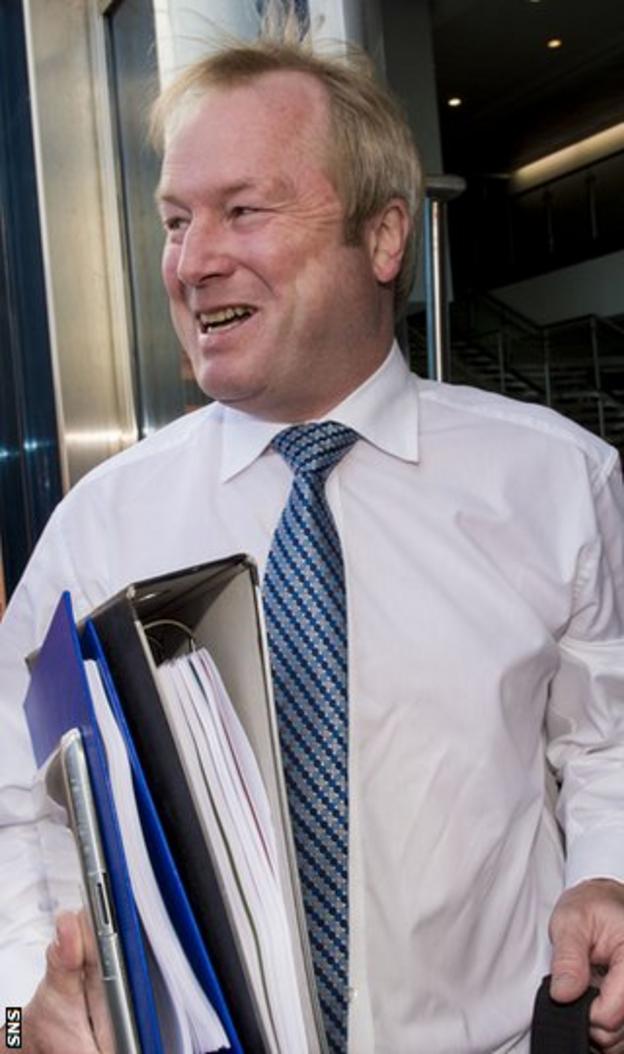 About 50% of the fans present said they would back the "not a penny more" campaign to starve the club of funds by refusing to buy season tickets and other club products.
Those supporting the action realised that it could put the club into administration but argued that such drastic action could be necessary to force the changes they want.
"As an association, we are not going to go down that route, but personally I am going to do it," said Armour, who thought the club's bank, HBOS, would be taking note of the fans' feelings.
"I don't think it would take much to force the club into administration."
A lone voice suggested that club chairman Johnston's regime could be viewed as a success for reducing the debt from £14m to £10m.
However, Armour argued that this was only a result of the chairman downsizing the club and cited late payment of bills to local businesses as examples of cash-flow problems.
The meeting came hours after Johnston revealed that former Blackburn Rovers manager for the managerial vacancy.
"If he brings in a high-profile manager like Henning Berg and announces some high-profile signings, we should just realise it is a diversionary tactic," Armour insisted.
The association chairman stressed that Shiels' departure had simply galvanised ill-feeling that already existed towards Johnston.
A poll by the association of 600 fans found that 76% backed the management team before their departure, but 62% did not think Johnston's regime was acting in the best interests of the club.