Hearts: Six groups considering a takeover bid

By Brian McLauchlin
BBC Scotland
Last updated on .From the section Football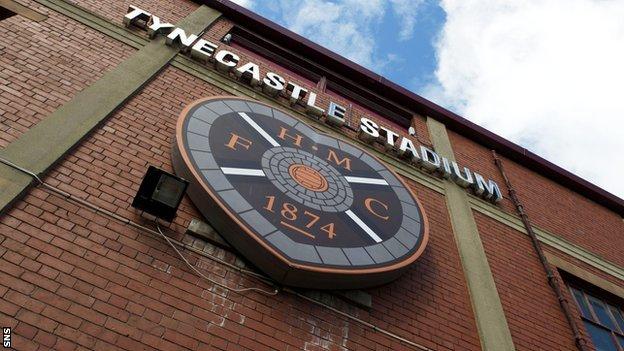 At least six interested parties are considering a potential takeover of Hearts, BBC Scotland has learned.
The troubled Scottish Premier League club have , with
Three potential bidders are based in North America, another in Scandinavia and there are two UK-based groups, including
The latter, comprised of fans, is hopeful of making a bid before July.
However, as things stand, no buyer is able to buy the controlling stake in the club as the majority of club shares are split between two companies.
Ukio Bankas has been declared insolvent and the liquidator of the Lithuanian bank can sell the 29.9% shareholding it has in Hearts as well as Tynecastle Stadium, which was held as security for the debt of £15m owed by Hearts to Ukio Bankas.
The Lithuanian authorities are understood to be keen for matters with Ukio Bankas to be settled soon.
Around 50% of the club's shares are owned by UBIG, a Lithuanian investment company. Although UBIG has gone to the Lithuanian government to declare itself insolvent, this has not, as yet, been ratified by the relevant court.
A liquidator with the power to sell UBIG's Hearts shares will only be appointed if the company's bankruptcy is formalised.
All the assets of UBIG have been frozen by the Lithuanian courts.
One probable scenario is that, once UBIG's insolvency is ratified, the liquidators of both that firm and Ukio Bankas will agree a package for sale.
This could be done without placing the club in administration but attempts to move Hearts into the hands of new owners more speedily would make an insolvency event more likely.
Were Hearts to be in administration after season 2013-14 has begun, a points deduction of 15 points would be incurred.
The Tynecastle outfit say their financial problems have resulted from lower season ticket sales, their worst league finish in more than 30 years, the absence of Rangers from the SPL and increased costs relating to the Main Stand.