Kilmarnock: Fans group offers mediation with chairman
Last updated on .From the section Football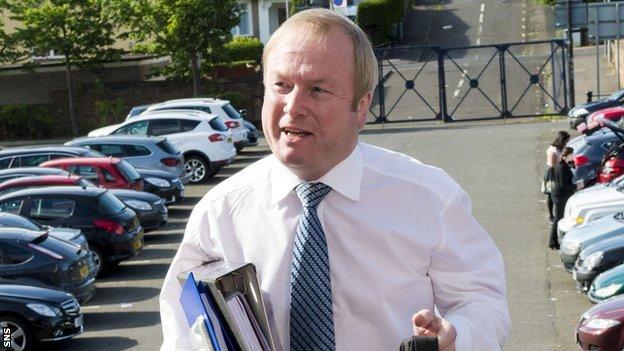 Supporters Direct Scotland has offered to mediate between Kilmarnock fans and club chairman Michael Johnston over the future direction of the club.
Fans groups will of the Scottish Premier League club.
But SDS head Paul Goodwin says Johnston had agreed to meet him next week.
Goodwin said he would be putting forward the Killie Trust's plan to make Kilmarnock a community club.
"Supporters Direct Scotland was contacted by one of its members, The Killie Trust, several weeks ago to ask if we could act as intermediaries and to help open up meaningful communication with their club," he said.
"We have spoken with the club's chairman today and have agreed to meet with him next week.
"We have said many times that no football club can afford to ignore its most loyal customers - their fans - and we look forward helping the club and The Killie Trust to discuss the future of Kilmarnock Football Club in an open and transparent way.
"The Killie Trust believe - and indeed have already presented a proposal to their club on these very lines - that a new model where community ownership could and should be developed as an alternative to the existing structure.
"Supporters Direct's specialist knowledge, gained from its work with clubs across Europe, will be available to help The Killie Trust and Kilmarnock FC plan for the future of their club as a community asset."
In a statement this week, the trust had suggested there had been a "sudden willingness" by Johnston to change the structure of the club and engage the community.
"The initial idea of a partnership between local authority, local business and fan/community groups working together was one brought forward by the trust in a recent meeting with the chairman, but he rejected the concept as unworkable for our club," it said.
The trust expressed surprise because, during a series of community ownership group meetings, those attending "highlighted individual instances which alienated them from the club and their general dissatisfaction at the way in which Kilmarnock Football Club is being run".
Trust members will attend Saturday's annual meeting of the Kilmarnock Football Club Supporters' Association following fan protests over the .
Association chairman Sandy Armour told BBC Scotland they would consider a boycott of season tickets and other club products, demonstrations and takeover bids as ways of ousting Johnson.