Hearts crisis 'could aid buy-out', says MP Ian Murray
Last updated on .From the section Football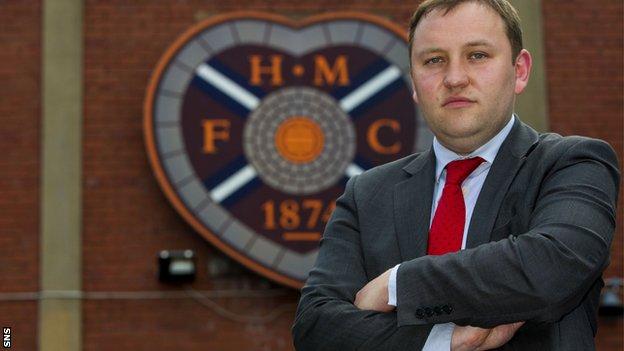 The MP leading a fan-backed bid to buy Hearts claims the cash-strapped club is virtually "worthless".
Ian Murray says insolvency facing the club's owners could work in his group's favour in trying to buy Hearts.
"From a hard-nosed business outlook, the club only has value in terms of its history, its share in the SPL and the assets that it holds," he said.
"Given Thursday's statement and the club accounts, it's quite clear there is an on-going annual funding gap at the club that is quite substantial.
"That obviously has an effect on what the club is worth and I would go as far to ask whether the club is worth anything?"
Murray addressed 300 fans attending a meeting of the Foundation of Hearts group, which hopes to by the club, as they looked to react to a week of financial trauma at Tynecastle.
The Scottish Premier League imposed an immediate after Hearts failed to pay all their players' salaries on Friday.
That came 24 hours after the club's board released a statement saying they had entered a "critical" stage in their battle to pay off debts of £25m as well as financing tax bills and other running costs.
Murray admits that the current situation at UBIG - which owns a 50 per cent stake in the club - and 29.9 per cent shareholder Ukio Bankas has "muddied the waters".
Both Lithuanian firms were formerly controlled by club Vladimir Romanov but are now in the midst of being declared insolvent by Kaunas-based authorities.
Ukio Bankas, which lost an appeal against liquidation on Wednesday, is due £15m by Hearts, who also owe another £10m to UBIG.
"Given the funding gap, it is only really worth what someone is willing to pay for it," foundation chairman Murray said of the football club.
"From a FoH point of view, though, we are in a better shape than we have ever been.
"We have more than 4,000 fans pledging cash to us and we are ready to go."
The foundation has already signed up more than 4,000 fans, who have pledged between £10 and £100 a month to back its effort and it hopes to lodge an offer by the end of June.