Africa's Confederations Cup history
Last updated on .From the section Football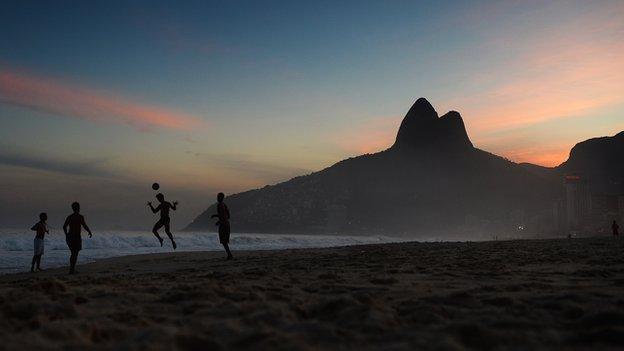 With the FIFA Confederations Cup starting in Brazil on Saturday, BBC Sport takes a look at Africa's involvement in the competition.
Six different nations have entered the tournament, all at different stages of their development, and all with varying consequences for their subsequent fortunes and their ultimate legacy.
The Early Years: King Fahd Cup
The first editions of the tournament, back when it was still named the King Fahd Cup and held in Saudi Arabia, were disappointing affairs for Africa.
1992 African champions Ivory Coast were routed 4-0 by a Gabriel Batistuta-inspired Argentina in the inaugural competition (with just four teams) later that year - with the Elephants beaten again in the third-place play-off, losing 5-2 to the United States.
In their last outing in the competition, Nigeria won Africa's first match in the King Fahd Cup, which Fifa recognises as part of the Confederations Cup's history.
With one of the finest collections of players ever assembled by an African nation, and just six months after their run to the second round of the 1994 World Cup, Nigeria beat Japan 3-0 and drew with Argentina - results that were only good enough to take them to the third-place play-off however.
Despite drawing 1-1 with Mexico after extra-time, the Nigerians were beaten on penalties in that match.
Ignominious Start
As the nineties progressed, neither of Africa's Confederations Cup qualifiers were able to match the Super Eagles' accomplished performance.
A year after winning their maiden Africa Cup of Nations crown in 1996, South Africa were bitterly disappointing - finishing bottom of their group with just one point from their three games.
In 1999, the tournament was staged outside of Saudi Arabia for the first time, with Mexico hosting, but Africa's miserable run continued as Egypt once again propped up their group - albeit with two draws.
Cameroon take Centre Stage
A new century brought a change in complexion, and once again a West African nation returned to the continent's summit. In 2000 and 2002, Cameroon proved their prowess by winning back-to-back Nations Cup crowns - one of only three countries to have done so.
Like Nigeria before them, an Indomitable Lions side littered with characters like Rigobert Song, Geremi, Samuel Eto'o and Patrick M'Boma had capped a dynasty by winning gold at the Olympic Games, beating a Spanish side containing Xavi, Carles Puyol and David Albelda in 2000.
After a disappointing trip to the 2001 Confederations Cup, the 2003 edition rolled around with the likes of Idriss Kameni, Achille Emana and Thimothée Atouba added to a squad already brimming with talent.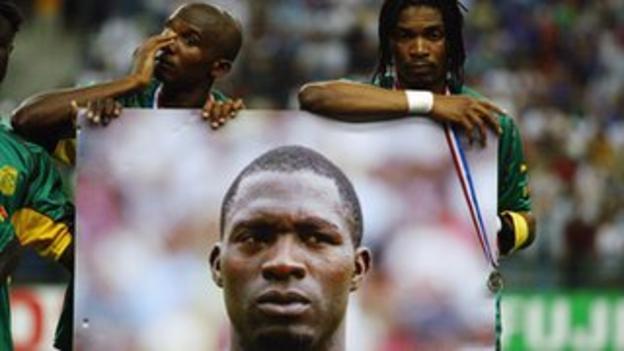 The Indomitable Lions did not disappoint, and qualified from their group following dramatic victories over Brazil and Turkey - winner and semi-finalist at the World Cup a year earlier.
Against Colombia in the semi-final, they took the lead early through Pius Ndiefi's ninth-minute goal and began to look like the real deal - but then, tragedy struck.
With the game lulling to a close, Cameroon's energetic midfielder Marc-Vivien Foé collapsed in the centre of the pitch and, despite attempts to resuscitate him, the 28-year-old died shortly after from a cardiac arrest.
The death of the lionhearted midfielder, beloved by West Ham and Manchester City fans in the Premier League, was a devastating blow to the international community, but was naturally felt the hardest by the team-mates that had played with him for years.
The final against 1998 World Cup winners France was an anti-climax, with both teams having been refused their requests to postpone or even cancel the contest.
Thierry Henry scored the only goal in extra-time, but Foé was the focus - and few present will ever forget the emotional images of a runner-up medal being hung on the corner of a giant photo showing his face.
Frustrated Generation: Egypt
Following Tunisia's forgettable foray into the 2005 tournament (when the Carthage Eagles finished third in their group with a solitary win over Australia), Africa was afforded two berths in 2009, with the competition becoming a four-yearly event.
This was because South Africa was the host nation, undertaking a dry run prior to the first World Cup on African soil in 2009, while Egypt qualified thanks to their Nations Cup win in 2008.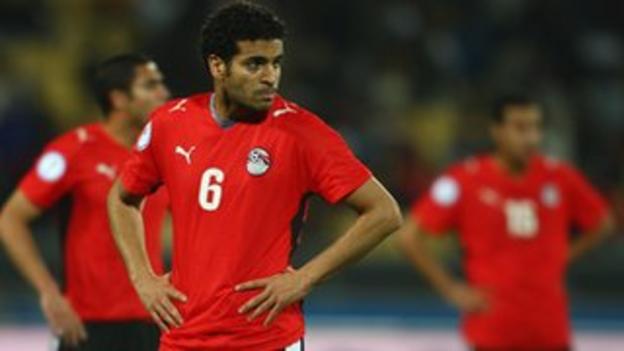 No African team has ever enjoyed a period of dominance like the Pharaohs, with the North Africans winning three consecutive Nations Cup crowns between 2006 and 2010 - a feat unparalleled in the continent's history.
This golden generation - headlined by refined playmaker Mohamed Aboutrika, fondly familiar with the spectacular yet one of the finest players never to have played in Europe - was among the best collection of players ever produced by an African nation, but they had one phenomenal flaw.
They never made it to the World Cup.
So the 2009 Confederations Cup provided Hassan Shehata's side with a rare opportunity to test themselves against the best in the world - with a group containing Brazil, Italy and the United States provided the Pharaohs with the sternest of tests.
Sadly, they finished bottom of their group, a conclusion that does not quite tell the story of their campaign. Twice they pulled level with Brazil, before being undone by a 90th minute Kaka penalty in a 4-3 loss in their opener.
They then beat reigning world champions Italy 1-0 - in arguably the generation's finest hour - before coming unstuck against the United States in Rustenburg, losing 3-0 when a draw would have taken them to the semi-finals.
As for hosts South Africa, they started slowly, but eventually managed to demonstrate some semblance of competency by finishing fourth.
It was a brief island of comfort during a tough run-up to the World Cup for hosts Bafana Bafana.