Hearts banned from registering new players by the SPL
Last updated on .From the section Football174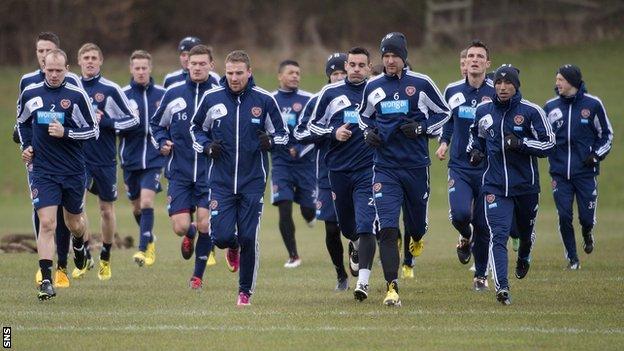 Hearts have been banned from registering any new players by the Scottish Premier League.
The club incurred the embargo and the possibility of further punishments at a later date after failing to pay a number of players their July wages.
The league says the ban will continue until the SPL is comfortable that the default has been met.
Failure to pay their players could be in breach of SPL rule A6.21 and a disciplinary hearing is set to be held.
The wages were due on Friday and it is not yet clear how many players have received their pay, or what percentage has been paid.
The registration embargo means Hearts manager Gary Locke cannot bring in new players, but he can sell players.
On Thursday, the club announced that as they try to generate income until the new season begins.
Hearts are in a parlous financial state. The club owe £15m to Ukio Bankas, which has been declared bankrupt.
In addition, £10m is due to the club's Lithuanian parent company, UBIG, which is claiming insolvency.
This week, Hearts said they had settled from Her Majesty's Revenue and Customs for unpaid PAYE, with the threat of a winding-up order looming.
And, at the end of last year, for three years in backdated tax and National Insurance.
The club blame their cash shortage on lower than expected season ticket sales, the team's worst league finish in more than 30 years (10th in the SPL), the absence of Rangers from the top tier and increased costs relating to the Main Stand.
Vladimir Romanov, Hearts' majority shareholder, is looking to sell the club. One potential bidder is The Foundation of Hearts, which hopes to place the club in the ownership of the supporters.
SPL rule A6.21 refers to a "default in player and club official remuneration".
It states: "Except in circumstances where there is a bona fide dispute as to liability for payment by the club, where the club is entitled to deduct or otherwise withhold payment of a sum otherwise due or where the club takes, suffers or is subject to an Insolvency Event, any club which shall fail to pay any sum due by it to a Player under and in terms of that Player's Contract of Service and/or any sum due by it under a contract of employment to any club official engaged in football management and/or football coaching (a "Remuneration Default") shall be in breach of these Rules."