Barry and Llanelli refused full FAW membership
Last updated on .From the section Football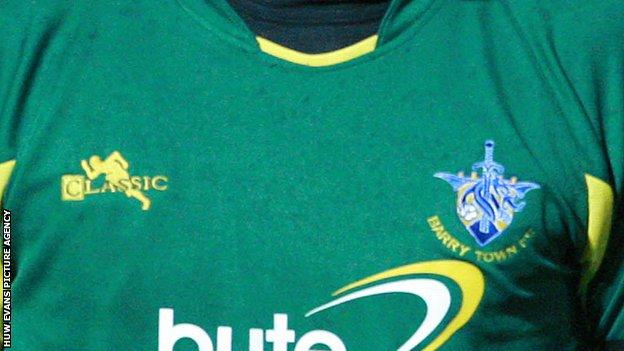 Barry Town United AFC, resurrected by fans of the former Welsh Premier League champions, have been told they will have to start next season in parks football.
Barry, as well as AFC Llanelli, applied for full membership to the Football Association of Wales for next season.
But both clubs have been refused full membership.
Members of the FAW Council considered a recommendation that both clubs should be admitted into the Welsh Football League.
But the FAW Council voted against the recommendation during a meeting in Betws y Coed.
The clubs have been instructed to apply for membership to their respective area associations.
Welsh League officials accepted Barry Town's request to be withdrawn the league in May.
Barry Town supporters' sommittee (BTSC), who had run and funded the club since 2011, said they were "hugely saddened" by the league's decision.
The Dragons were a dominant force in Welsh football for many years, winning the Welsh Premier (formerly the League of Wales) title seven times between 1996 and 2003.
Llanelli AFC, who won the Welsh Premier League title in 2008, were wound up at London's High Court over a £21,000 tax debt in April.