Kilmarnock fans seek to oust chairman Michael Johnston
By Clive Lindsay
BBC Sport Scotland
Last updated on .From the section Football73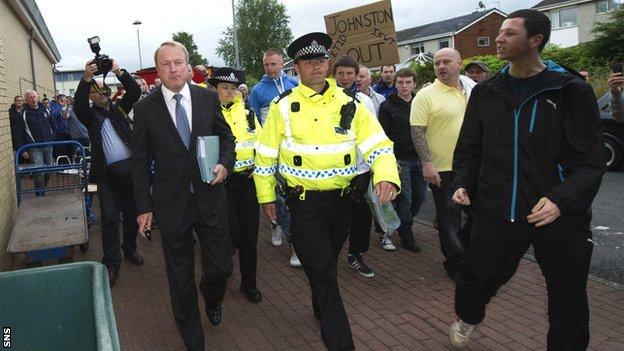 Kilmarnock fans' groups will meet at Rugby Park on Saturday to form a plan of action designed to remove chairman Michael Johnston.
The sacking of Kenny Shiels as manager led to a spontaneous protest outside the stadium on Tuesday.
And the supporters' association's annual meeting will be turned into a forum to consider more formal action.
A boycott of season tickets and other club products, demonstrations and takeover bids will all be considered.
Association chairman Sandy Armour told BBC Scotland: "There are some strong anti-Johnston feelings at the moment and we will be looking at various routes to removing him.
"The Kenny Shiels situation is the straw that broke the camel's back, but there was a lot of disquiet about the club's finances, with stories of local businesses not being paid.
"We are expecting a big turnout. We had 20-30 folk last week and this time it could be up to 300."
Hearts this week admitted that they are in a battle for financial survival and blamed a shortfall in season ticket sales.
Asked if he feared a boycott could plunge Kilmarnock into a similar position, Armour said: "We are in a desperate situation as it is.
"If we sit back and do nothing, we are going to have an insolvency event.
"It would be short-term pain for long-term gain and we hope the bank can intervene."
Armour has himself decided not to buy a season ticket and claims to know many other fans who will do likewise, although he accepted that some at the annual meeting might not agree with a call for a boycott.
The supporters' association's annual meeting will also be attended by the Kilmarnock Supporters' Society Ltd (the 'Killie Trust'), of which Armour is a board member.
A statement from the trust pointed out that it previously expressed dissatisfaction at the way the Scottish Premier League was being operated.
"We feel that the confidence in, and reputation of, Kilmarnock FC is not being served by the actions of its chairman," it said.
"The treatment of a dedicated, hard-working and popular team manager, Kenny Shiels, a man who engineered our first-ever Scottish League Cup success only last year, has further tarnished the reputation of Kilmarnock FC."
The trust said it wanted to work with the supporters' association to ensure that the fans "are no longer ignored" and expressed disappointment that the idea of turning over Kilmarnock to community ownership had been dismissed by the club.