Michael Laudrup has 'no problem' with Swansea City, says agent
Last updated on .From the section Football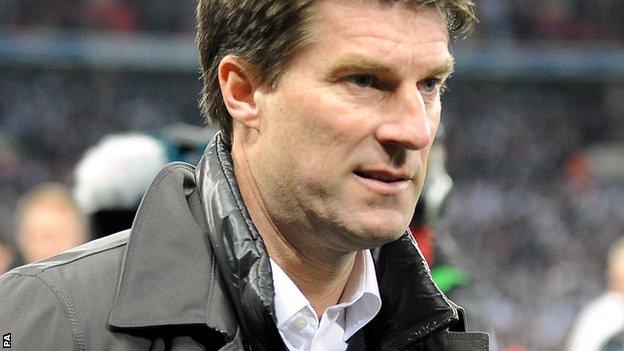 Michael Laudrup's agent has insisted there are no problems between the Dane and Swansea City, only between himself and chairman Huw Jenkins.
But Tutumlu said Laudrup would be continuing as Swansea manager.
"There is no problem with Michael Laudrup and Swansea City," Tutumlu told BBC Wales..
"He is staying. It is my problem, my problem with Huw Jenkins.
"I spoke about it yesterday and I don't want to speak about it again. The issue is now finished. I don't want to speak about it anymore."
Club sources have accused Tutumlu of trying to dictate transfer policy, with one particular point of contention being the agent's involvement in the potential sale of Wales defender Ashley Williams.
Chairman Huw Jenkins is believed to have told Tutumlu that he has no intention of allowing Williams, who has been linked with Arsenal and Liverpool, to leave the Liberty Stadium.
Laudrup's future at Swansea was already uncertain due to a dispute over transfer funds before the club confirmed they had cut ties with his agent.
But the Dane spoke of his intention to stay at Swansea City, despite the club falling out with an agent who has represented him since his Barcelona days.
"I have repeated it so many times in the last three months. My intention is to stay," Laudrup said.
"If the club do not want to work with him, or Bayram does not want to work with them, it's their problem not mine.
"The only thing I care about is to have the best players possible at Swansea who are within range of the economy of the club.
"I have 100% confidence in Bayram, but if the club don't want to work with him or he doesn't want to work with them, they have to live with that."
It is understood Jenkins remains in contact with Laudrup and that the former Juventus and Real Madrid player has offered up a fresh list of potential transfer targets, having seen a number of players he previously asked to sign go elsewhere.
Laudrup, who signed a contract extension with Swansea in March, has been linked with clubs all over Europe in recent weeks,
Roma and Fenerbahce are the latest possible destinations, but the Dane has also been linked with Real Madrid, Barcelona, Malaga, Paris St-Germain and Monaco.