Confederations Cup: Sepp Blatter confident Maracana will be ready

By Ben Smith
BBC Sport in Rio de Janeiro
Last updated on .From the section Football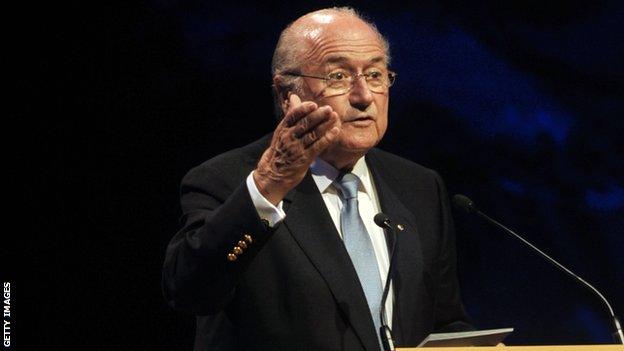 Fifa president Sepp Blatter has moved to allay fears over the readiness of a number of stadiums in Brazil for the start of the Confederations Cup.
Workmen are still involved in construction projects at and around the Maracana in Rio, despite the stadium hosting Italy versus Mexico on Sunday.
However, Blatter said he was not unduly worried by the delays.
"I have seen worse situations. Yes there is still work to be done, but it will get done," he said.
"I have been to many tournaments when the painters are still painting the stadiums an hour before the first match. It is not a surprise to me that people are still working.
"It just means that something has not been finished and they need to finish it."
Heavy rainfall in Recife has also raised doubts about the playing surface at the Arena Penambunco, with Spain set to play Uruguay there on Sunday and further heavy rain forecast over the next two days.
Blatter, however, says no tournament he has been involved with has ever run totally smoothly. "Since I was first involved in 1978, I have witnessed a lot of problems like this, but when the tournament started, everything went well.
"Let us see. Let us hope this is the same," he added.
Brazilian Sports Minister Aldo Rebelo reacted angrily to suggestions the Maracana might not be ready and insisted that the ongoing work was merely aesthetic.
"The stadium was delivered and there were two test matches with complete success in the most absolute tranquility and security," Rebelo said when answering a question about why the Maracana still resembled a building site.
"If what they are doing there is called major construction in your country, then frankly I pity the people of your country.
When the journalist, who posed his question in English, was asked which country he was from, he replied: "I am Brazilian."
One row that appears to have defused is a possible strike by Nigeria's national team, who had threatened not to attend the tournament after a disagreement over bonus payments.
However, Jerome Valcke, general secretary of Fifa, told BBC Sport on Thursday that both parties have reached an agreement and that the African champions will arrive in Brazil in time for their opening match against lowly Tahiti in Belo Horizonte on Monday.
"I have spoken to the team manager and they will board a plane on Saturday. They will compete in the Confederations Cup. The dispute is over," Valcke said.