Egyptian football set to lose an icon
By Farayi Mungazi
BBC Sport
Last updated on .From the section Football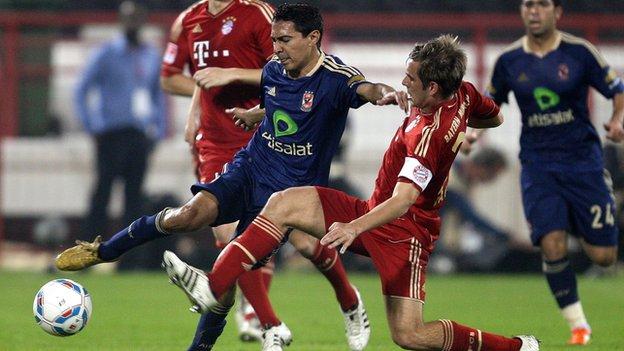 All good things in life must come to an end one day and that includes even the most glittering of football careers.
But when the career in question belongs to a much-loved Egyptian icon called Mohamed Barakat, its end should be marked as the passing of an extraordinary adventure.
The 36-year-old may not have played much football in the last couple of years, but Al Ahly and African football will be worse off after the retirement of the midfield magician.
Diminutive in stature but huge in reputation, Barakat will go down in history as one of the continent's most exciting footballers.
But the question of why he never played in Europe is one that will undoubtedly continue to be raised.
This question exercises the mind even more when you consider that players of lesser ability have somehow ended up on the books of a European club.
At the height of his powers, Barakat was a cross between an orchestra conductor and a Hollywood film director in terms of creativity in the middle of the park.
His hunger, determination and commitment to put his body on the line earned him two nicknames from appreciative Al Ahly supporters - 'Mercurial' and 'Blessings'.
After joining Al Ahly in 2004, he quickly established himself in the first team and became a vital cog of the Red Devils as they dominated the domestic championship and the African Champions League.
His career peaked in 2005-2006 when he was at the heart of the club's back-to-back Champions League titles, and played a part in two more successes in 2008 and 2012.
When Egypt won their fifth Africa Cup of Nations title on home soil in 2006, it was thanks to Barakat's mesmerising agility and turn of pace that made several opponents look foolish.
His 173 appearances for Ahly yielded 34 goals - most of them coming from excellent runs into the box. He also found the back of the net nine times in 70 matches as a Pharaoh.
Never one to shirk a challenge, he was also known to overstep the mark at times.
But due recognition came in 2005 when he was named BBC African Footballer of the Year.
When I presented the trophy to him in Cairo, I took the opportunity to ask him whether he had ever thought of playing in Europe. He said words to the effect that he was happy and content in his homeland.
"I hope the fans are satisfied with what I did with the team but it's time for me to go," Barakat said in his retirement statement.
It may, indeed, be time for him to walk off the stage but what those fans and pundits alike love about the man is not just the fact that he thrilled us with some great football but that he was a nice guy off the pitch, too.
Barakat is no David Beckham and is not bowing out to much fanfare. But he deserves to be saluted as one of Africa's very best.