Football League reveals six fixtures early to mark 125th anniversary
By Paul Fletcher
BBC Sport
Last updated on .From the section Football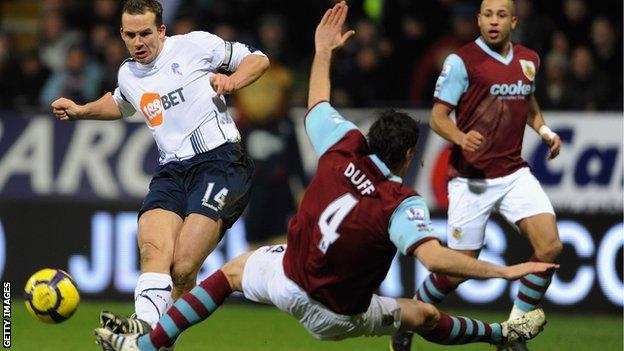 Burnley will entertain Bolton on the opening weekend of the new season, 3-4 August, as one of six games to mark the Football League's 125th anniversary.
The Clarets' Turf Moor ground hosted games in the inaugural 1888-89 season.
The other Championship fixture is Derby v Blackburn, plus Preston v Wolves and Sheffield United v Notts County in League One, and Rochdale v Hartlepool and Newport v Accrington in League Two.
The full 2013-14 fixture list will be released at 09:00 BST on Wednesday.
Burnley and neighbours Bolton are two of the Football League's 12 founder clubs, while the Clarets' Turf Moor home is one of only three grounds still in use that hosted matches during the first season.
Derby, Blackburn, Wolverhampton, Preston and Notts County are also among the 12 founder members of the competition, the idea for which started to take shape on 2 March 1888.
It was on that date that William McGregor, then secretary of Aston Villa, sent out a letter suggesting "that 10 or 12 of the most prominent clubs in England combine to arrange home and away fixtures each season".
Two weeks later, a meeting took place at Anderton's Hotel on Fleet Street in London to discuss the idea and the plans began to be made for the 1888-89 season, which was won by an undefeated Preston.
North End hosted Burnley on the opening weekend of the inaugural season at Deepdale, a ground that has now staged 2,342 Football League matches - more than any other stadium in the competition.
Bramall Lane, the home of Sheffield United, is the world's oldest professional football ground, while opponents Notts County are the oldest team in the world currently playing at a professional level.
None of the teams in the featured League Two games was part of the 1888-89 season but the fixture between Hartlepool and Rochdale is the most played between any two clubs currently in the Football League, with the next meeting their 137th encounter.
In the final anniversary match, Accrington Stanley travel to the League's newest ground and member club - Rodney Parade, the home of the re-formed Newport County.
An Accrington side did compete in the 1888-89 season but that club later folded and is unconnected to the modern-day Stanley.
"For 125 years, Football League clubs have delivered the greatest show in town, week after week," said Football League chairman Greg Clarke.
"Our clubs and their supporters are the heartbeat of the domestic game, giving English league football a breadth and popularity that is unrivalled anywhere in the world.
"We look forward to celebrating 125 years of incredible matches, unforgettable moments and gloves-off footballing rivalry."
The new Football League season starts on the weekend of 3-4 August, with the Premier League under way on 17-18 August.
Football League opening day fixtures
Championship: Burnley v Bolton, Derby v Blackburn
League One: Preston v Wolves, Sheffield United v Notts County
League Two: Newport v Accrington, Rochdale v Hartlepool