Wigan Athletic: Dave Whelan says new manager appointment close
Last updated on .From the section Football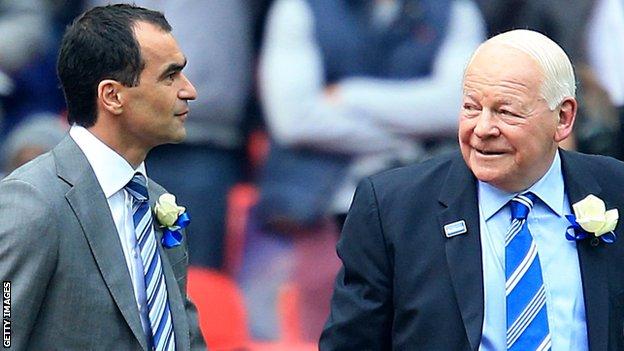 Wigan Athletic chairman Dave Whelan says he is close to appointing a new manager.
"I expect to announce something [on Friday]. I still have two more lads to see," he told BBC Sport.
"I've seen some great lads, top managers and it could be we have to speak to one or two of them again."
After an eight-year stay in the Premier League, the Latics were relegated to the Championship after finishing 18th.
Former England manager Steve McClaren and ex-Bolton boss Owen Coyle have been heavily linked with the vacancy at the DW Stadium.
McClaren, 52, ended his second spell at Dutch side Twente in February while Coyle, 46, has been out of work since he left Wanderers last year.
Having beaten Manchester City 1-0 at Wembley in the FA Cup final, Wigan will be playing in the Europa League, but Whelan says he is hopeful of attracting someone with Championship experience.
"The total priority is for the manager to get us into the Premier League," he added. "If he can do that then he's done his job and he'll be with us for a long time.
"I don't like the thought of appointing someone just because they have specialised in the Championship though.
"That would be short term and I don't want to bring someone in like that. You need to have them with you for five or six years to be successful."
Whelan also says he is not looking to appoint someone who is at another club as that would mean paying for their services.
"That's something we have to take into consideration," he continued. "Some of the managers I've spoken to are under contract and that means compensation, which would not be ideal."