Gary Bowyer wary of Blackburn Rovers dismissal next season
Last updated on .From the section Football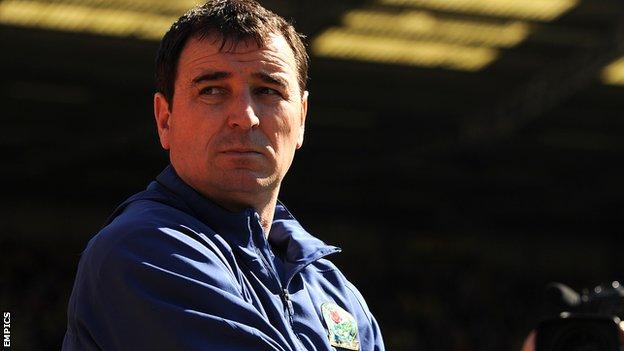 Blackburn Rovers manager Gary Bowyer admits he is aware he could be sacked next season with a poor run of results.
Bowyer took permanent charge after a season where he was at the helm twice and four other managers were used.
"They've not said 'regardless of what happens you are here all season'," the 41-year-old told BBC Radio Lancashire.
"I've grown up in the industry all my life so I know what it's about. If we were to lose three games on the trot then there would be pressure."
He added: "I'm under no illusions. The only person that can give me assurances is me and the players and that's by the performances and the results.
"The positivity around the place that I'm feeling at the moment from supporters and staff it's a real exciting time for me."
This week Bowyer appointed Terry McPhillips as his assistant manager and Tony Grant as first-team coach as he begins preparations for next season.
He has revealed he is hopeful of bringing back David Jones and Todd Kane to Ewood Park after their stints last season, having already signed Chris Taylor, Alan Judge and Simon Eastwood.
The former Rovers youth-team coach is also optimistic about keeping midfielder David Dunn with the 33-year-old out of contract this summer.
"I hope we're very, very close. It's been well documented my thoughts on David Dunn and what I think of him and what he means to this club," he added.
"You need people that care and are passionate about the club for it to be successful in my opinion, all the great clubs have them.
"I think it's important we get him here for another year because he's valuable in the dressing room as well."
Having failed to earn promotion back to the Premier League at the first attempt, Bowyer also insists he is under no pressure to trim the squad.
"From conversations with the owners they categorically told me that Jordan Rhodes wasn't for sale, and I'm led to believe that," he continued.
"I've not been told I've got to sell anybody, but that said I'm not daft if someone offered me the chance tomorrow to be a coach at Manchester United it's human nature that you take it generally."
If you missed the hour long special with Gary Bowyer on BBC Radio Lancashire you can listen again in full on the iPlayer.