Scottish league merger justifies breakaway plan - Les Gray
Last updated on .From the section Football45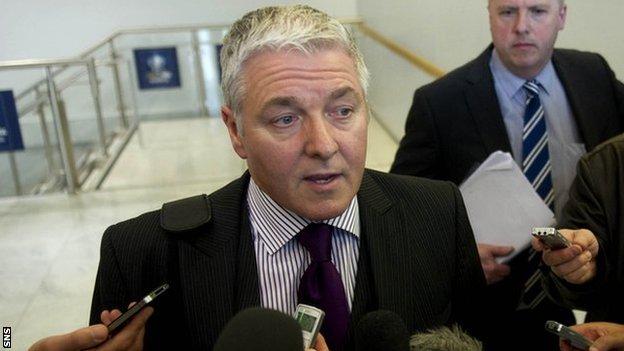 Hamilton Academical chairman Les Gray believes a breakaway plan by First Division clubs was justified as it led to .
And it led some to change their vote as Scottish Football League clubs voted in favour of a merger with the SPL.
"I'm hoping it wasn't seen as a threat," said Gray. "I definitely think the actions we took were justified."
The clubs voted for a plan that retains the present leagues of 12-10-10-10, but there will be play-offs between the SPL and Division One, a redistribution of wealth to First Division clubs and a merger of the two league governing bodies.
The process will be formalised on 27 June, when the first board of the new Scottish Professional Football League will be formed.
But, immediately after the vote, SFL president Jim Ballantyne described the restructuring as a takeover rather than a merger.
Gray considered those words to be "emotive", although he did not take issue with the Airdrieonians chairman's assessment.
"I think having a meeting at New Douglas Park and offering to join the SPL should this vote not go through was enough to make everybody take a second look and think about the consequences of life without the First Division clubs," Gray told BBC Scotland.
"So I'm really delighted that the other clubs have decided to vote for what I think is best for Scottish football.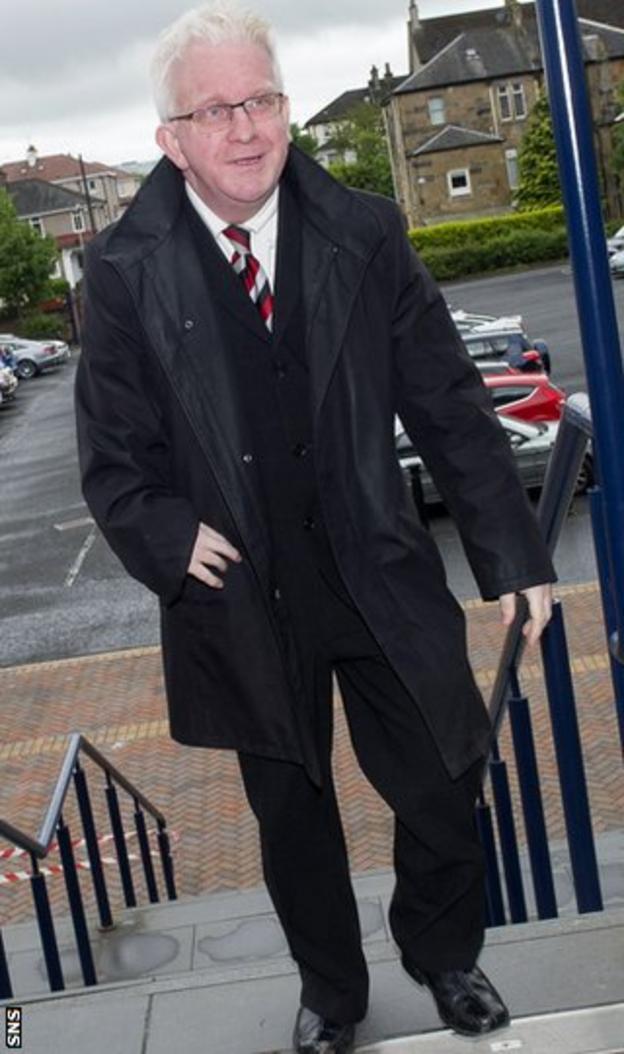 "I have always thought that a 42-club solution was the best way forward. I wasn't sure we could achieve it, hence why we looked at the other alternatives.
"But we have achieved it and I think having one governing body, one set of costs, etc, economies of scale, which will be painful in the beginning, a new board and play-offs for the First Division and a better distribution model must be better for the whole set-up.
"It gives better competition in the First Division, which means that when we reach the top end of that we can compete with the bottom of the SPL on a more equal footing."
Gray said it was up to SPL chief executive Neil Doncaster and SFL counterpart David Longmuir to decide whether they wanted to apply for the role with the new body.
"I wouldn't like to speculate about that just now as people's jobs are at stake," he said.
East Stirlingshire, who finished bottom of Division Three, were among the six clubs out of 29 who voted against the proposal and club secretary Tadek Kopszywa echoed Longmuir's sadness that the 123-year history of the SFL had come to an end.
"Our club felt that, given the overall package that was available to us, the status quo was preferable both in financial terms and in governance terms as well," he said.
"It's the end of a piece of history, but what it actually means into the future no-one knows.
"I don't think any of the SPL clubs know, I don't think any of the teams here now actually know what it means, there is so much uncertainty.
"There's been much talk of amalgamation, which is a word that's been used, but in reality it's a takeover.
"The clubs that voted today have voted to join the SPL as it currently exists. It will change its name, but the company is still the same."