Egypt and Al Ahly midfielder Mohamed Barakat to retire
Last updated on .From the section Football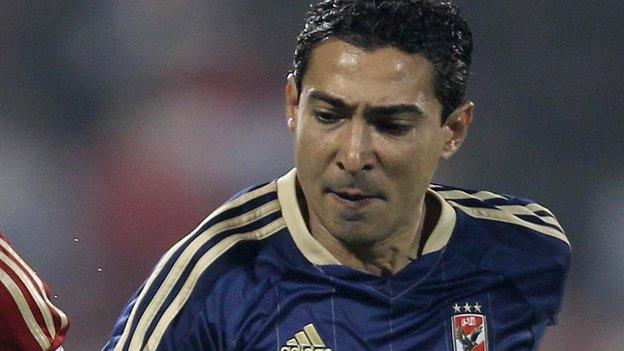 Egypt and Al Ahly midfielder Mohamed Barakat has announced he will retire from football at the end of the season.
The 36-year-old has made 173 appearances and scored 34 goals for Ahly since since joining the club from Saudi team Ahly Jeddah in 2004.
He also played for the Pharaohs 70 times, notching nine goals.
"I decided today to end my career but I will continue with Al Ahly until the end of the current season," Barakat told the club's website.
"I hope that I was useful for Al Ahly."
Ahly coach Mohammed Youssef revealed he had hoped Barakat would play on for at least one more season.
"He is a great player and it is impossible to forget him, "Youssef told the club's website, adding that he respect's the player's decision and wishes him success for the future.
Barakat started his career at Al-Sekka Al-Hadid in 1996 and played for Ismaily, Arabi and Ahly Jeddah before transferring to Ahly, where he stayed for nine years.
At Ahly, he won the Egyptian league title seven times and the African Champions League three times - in the 2005 competition he was the tournament's top scorer with seven goals.
Barakat also enjoyed success on the international stage, winning the Africa Cup of Nations in 2006.
Individual honours came in 2002 and 2009 when he was named Egyptian Footballer of the Year and in 2005 when he was voted BBC African Footballer of the Year.