Sheffield United: David Weir prepared for management
Last updated on .From the section Football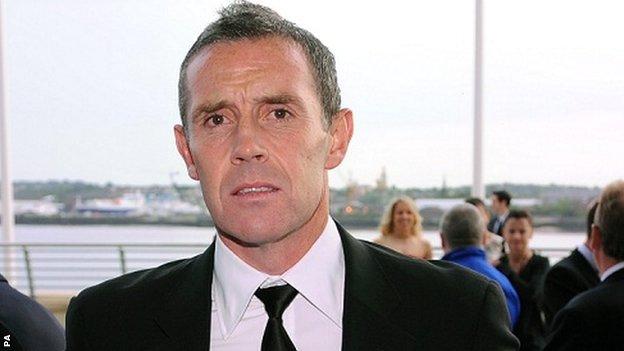 David Weir has said he turned down several previous opportunities to go into management before agreeing to take charge at Sheffield United.
The former Scotland defender told BBC Look North he was determined to wait for the right club before stepping up.
"I preferred to learn in the background and develop that way," said Weir, who worked under David Moyes as reserve team coach at Everton.
"But he [Moyes] and I both agree it's time for me to be a manager."
It had been thought Weir could join other former members of the Everton coaching staff in moving with Moyes to Manchester United.
But the 43-year-old has decided the chance to manage the Blades made it the right time to take charge of a club for the first time.
"It's a massive step, but I've prepared myself for it," said Weir.
"Although I played until a ripe old age, I was learning, I was helping with coaching at Rangers, and at Everton in the last couple of years, I've been coaching as well and learning from a great manager. I've basically shadowed him and tried to pick up as much as I can.
"The manager [Moyes] has been very complimentary and he's a person I've loved working with, but he and I both agree I've served my apprenticeship and the time is right for me to try and stand on my own two feet."
Weir made it clear that while he wanted his team to play football that was good to watch, results had to be the priority.
"I also like to get young players involved, that's important and it's been my background in the last five years," he said.
"I can't kid on that I'm a League One expert, but I've got a broad experience of football, I've seen a lot of different levels of football, different players in different countries.
"You have to be able to think on your feet and have a plan B as well, and that's what I've tried to pick up over the last two or three years. I'm a coach who can adapt but also a coach who knows how to win, hopefully."
There has already been speculation Weir could use his contacts at Everton, and now with Manchester United, to bring in loan players to boost his squad, but he made it clear he would be looking to Blades' own players first.
"Ideally we'll promote our own. Sheffield United have some good young players in the system, and that's the ideal pathway, though if there's a player I can bring in who can help us I'll look at that," he said.
"I know from my time here going back two years, there are still some players here and a good quality of player, there's no doubt about that. Maybe we need to boost that, add a few, but I think there's more than enough quality here and I'm excited by the standard of player."