Alex Smith urges chairmen to show patience with managers
Last updated on .From the section Football
Falkirk technical director Alex Smith has urged football chairmen to exhibit more patience with their managers.
Kenny Shiels left his post as Kilmarnock boss on Wednesday, having won a trophy with the Ayrshire side last year.
And Smith, who is chairman of the Managers and Coaches Association, feels managers are not getting enough time.
"There have been too many dismissals of managers and I'm talking about the UK, rather than just Scotland," he said.
"It is becoming very, very frequent. There's no real time given managers to do the job now.
"Very few clubs have managers for any more than three or four years now, which is not enough time to direct a club and take it to the direction that everybody wants it to go.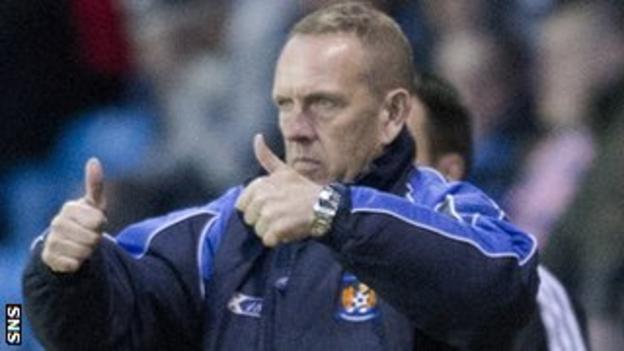 "Sometimes you have to really gut a club out before you can start building.
"Nowadays, finance dictates everything, so everybody's budgets are very tight and really the only sensible way to go about the business is to develop your own players.
"That takes time and when you're developing kids, there's an inconsistency to that and there's an impatience from the public as well.
"To develop a football club, you need more than 18 months; you need more than three years. It takes longer than that to develop a club and develop it in a proper way in order to sustain the standards that are being asked."
Of Shiels' departure from Rugby Park, Smith expressed disappointment.
"It's an unusual one and one that I would have hoped to have been avoided," he said.
"I think his achievements, like many others working with clubs like Kilmarnock, have been quite amazing.
"He won a major trophy last [the Scottish League Cup] year against the top team [Celtic] at Hampden, which isn't easy to do, and he's improved the club in terms of their playing over the last couple of seasons.
"He's introduced a lot of good young players, he's worked with a very low budget, he's brought in some very good signings."