England U21s players 'embarrassed' by Euro defeats
Last updated on .From the section Football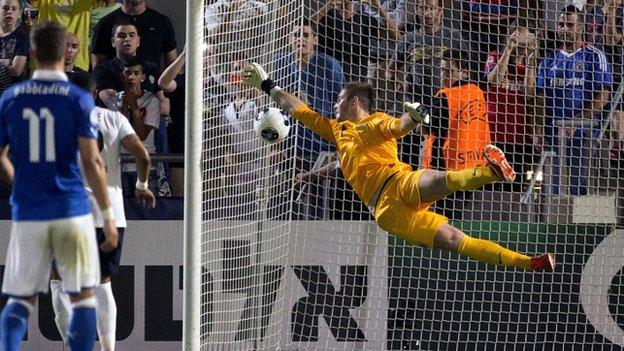 England goalkeeper Jack Butland says the players are "embarrassed" by a poor European Under-21 Championship and wants Stuart Pearce to stay on as boss.
England lost to Italy,Norway and Israel to go out at the group stage for the second consecutive tournament.
"For a legend of the game like Stuart Pearce, it is difficult to apologise, but there is no-one else to blame but the players," 20-year-old Butland said.
"He works extremely hard. I really do hope he stays."
Butland added: "We are embarrassed, we haven't done ourselves justice. We are a lot better than this but we can't keep saying this. We haven't proved it and we can only wonder why.
"We wanted this. It is difficult to understand what went wrong. We just seemed flat and not ourselves, which is difficult to understand."
England went into the tournament in Israel on the back of nine successive wins without conceding a goal, but return home having failed to collect a point, leaving Pearce's job looking precarious.
Former England full-back Pearce's contract expires at the end of the month and, despite the showing at Euro 2013, Butland said the 51-year-old coach had prepared the players well.
"It says it all how we got here - the way we played, the structure and organisation we had," the Stoke goalkeeper said after Tuesday's 1-0 defeat to Israel.
"He does everything necessary to make sure we are successful and gives us all the right tools."
Pearce, who started coaching the Under-21s in 2007, has blamed the players and hinted he wants to stay in the job.
The English game's ability to produce quality players has been called into doubt, while other questions have been asked, including whether Pearce is the right man for the job.
Butland is one of 10 players in the squad eligible for the next England under-21 European campaign, with the 2015 finals due to be staged in the Czech Republic.
"Personally, I think I will learn more from this experience than had we done a lot better and maybe even gone on to win the tournament," he said.
"For me, after a very long season and last year, it is definitely about time management, managing my time and making sure I am mentally set.
"That is something that I have learned and I am sure there will be a lot to learn from the other lads' point of view, too.
"In the future, people will be able to look back at this and know what has gone wrong and learn from it."