England's U21s seemed to lack self-belief, says David Pleat
Last updated on .From the section Football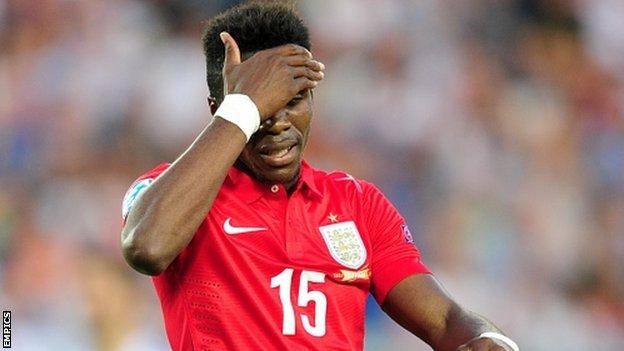 England's participation in the European Under-21 Championship came to a disappointing end when they lost 1-0 to Israel in Jerusalem.
Israel's Ofir Kriaf struck 10 minutes from the end to ensure England will return home bottom of Group A with no points.
BBC Radio 5 live summariser and former Tottenham manager David Pleat was in Jerusalem, and gives his thoughts on the match and England's overall performance in the tournament.
What did you make of the performance against Israel?
"It was very depressing for everyone concerned, for all the English supporters. But it was a fantastic result for a little nation who have been very hospitable, and who have put on a very good tournament.
"It gives them hope here in Israel, and it sets an example that you can beat players from big countries that are respected as professionals.
"England did not do themselves justice at all, either in this game or in the previous two. Once again England looked a little bit listless - when the ball changed hands to the other team, they were slow to react.
"I thought that one or two players were playing for themselves, rather than passing the ball accurately and early.
"I can't understand players dribbling in areas when they don't need to. You need to dribble in the last 30 yards if you can't get away from someone, and if you have got the cleverness to beat someone."
What are your thoughts about England's campaign?
"The most disappointing aspect was that we scored one goal in 270 minutes, and that came from a penalty.
"There were very few positives. Some of the players gave the impression that they were on the beach, though I stress only some of them.
"I'm not sure if they were ready for this tournament. They seemed to lack self-belief and unification; they didn't play well together.
"We have come away with three bad results, there were no goals from open play, but more importantly there were three very anaemic performances."
Should players take more responsibility?
"Some managers are very reluctant sometimes to criticise players because they need their players to play for them.
"I don't think these players will have to play for Stuart Pearce any more. I think Stuart Pearce, possibly, might look at everything that's going on and decide that he's had a nice run in this position of manager.
"Being the coach of the England Under-21s is a lovely position and he'll probably have a look at it and think, 'I've had a crack at it, I've had four tournaments'.
"He can't say that he hasn't had a nice run, but he has been handicapped by lots of things, like the availability of players."