Investment in Dundee less likely, say Keyes Capital

Last updated on .From the section Football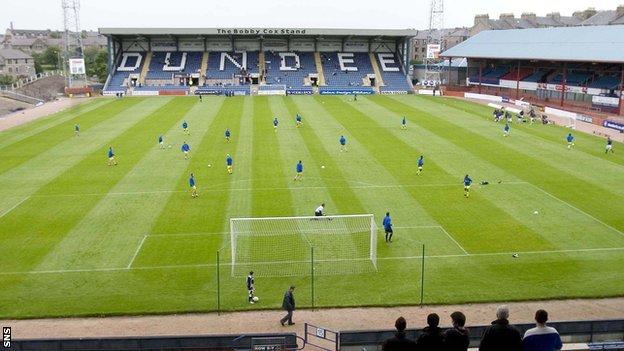 The prospect of new investment in Dundee is diminishing as the club's board delays its decision on whether to accept an offer from Keyes Capital.
The Texan investment group's John Nelms insists the deal is still alive but is concerned time may be running out.
Dundee were relegated from the Scottish Premier League last season.
"As the days go on it's less likely that we'll invest because it's less useful if we invest in three months time than right now," he said.
Nelms expects Rangers to win the upcoming Second Division and believes Dundee need to win the First Division in the coming season to avoid having to compete with the Glasgow side for promotion in the following campaign.
"We need to get back up to the SPL after next season, because after that Rangers will be there, so it becomes even more difficult to step up," he explained.
"We'll stay in the deal as long as Scot Gardner the CEO and [manager] John Brown think we can bring quality players in for the spine of a team to get us back up. But it's rapidly coming to a conclusion.
"It's a risk-reward situation. We can be back in the SPL next year if we manage it properly. My understanding is that DFCSS agreed last weekend to have an SGM to issue new shares so that we can get the money in for John Brown by next weekend."
The Dundee FC Supporters Society currently provides the only two directors on the board of Dundee, Dave Forbes and Fraser Macdonald.
Together, they control 51% of the shareholding in the club which would be diluted in the event of the investment being accepted, and they insist they are supportive of the investment.
"I am 100 per cent behind the proposal and am quite happy to accept the due diligence which has been done," said Forbes.
"We expect to have clarification from DFCSS lawyers by late tomorrow on a few aspects, but I am pushing this to get it accepted
"Once the lawyers give us clarification tomorrow, DFCSS will ask the consortium for an official, final and formal offer. That will then go to the DFCSS members as soon as possible, with our recommendation that as long as Keyes Capital agree to honour their pledges, they accept the proposal.
"I want this to go through, I hope others do as well"
Bill Colvin, who already owns around 18% of the shares, is ready to invest £200,000 in tandem with the proposed £650,000 American investment.
Colvin recently resigned from the Dens Park board after it did not agree to the Keyes Capital proposal, but will rejoin if the deal goes ahead.
"I had a half-hour conversation with Fraser Macdonald and I told him I'm still here," Colvin told BBC Scotland.
"But it gets to the point where you lose interest. They want due diligence done and I've asked them what do you need?"