Richard Low: Crawley Town close to several new signings
Last updated on .From the section Football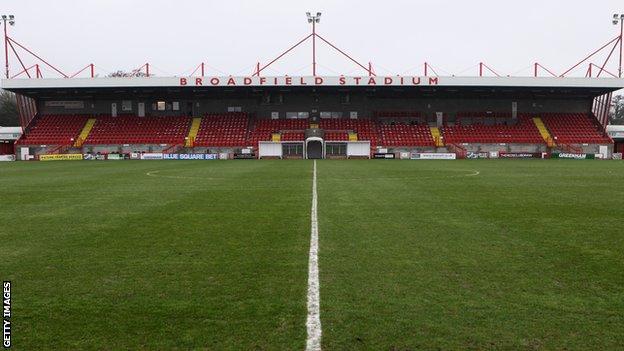 Crawley Town chief executive Richard Low hopes to complete the signings of several new players later this week.
"We are close to getting a few really good players and I think our fans will be excited," he told BBC Sussex.
"Hopefully they'll be done by Friday at the latest. It's the start of Richie [Barker] building his own squad and one he is 110% happy with come August."
Barker was appointed Crawley Town manager just one week prior to the start of the 2012-13 League One season, replacing Sean O'Driscoll, who left for Nottingham Forest without taking charge of a competitive match.
Former Bury boss Barker, who recently agreed a new two-year contract, has since signed five players, although Lateef Elford Alliyu has already left, and the club are waiting on a contract decision from January recruit Mustapha Dumbuya.
"After I came in I think Richie and myself were kind of feeling each other out to see if we could work together," Low continued.
"But almost immediately we hit it off and I think doing a few deals in January helped us get used to one and other.
"From there we wanted a new contract sorting as soon as possible to give the stability that you need at a football club."
Meanwhile, work is continuing on the creation of the Red Devils' academy.
Low announced on his arrival at Broadfield Stadium that the setting-up of a new youth system was one of his core objectives.
"The academy is a huge project for me and initially I thought it would be a year or two before I could really get it off the ground but we're moving really quickly," he added.
"It will be a break-even business like the model I installed at Aldershot.
"Financially it will be funded by sponsorship and advertising revenue - we won't be one of those clubs running it at a controlled loss."
Crawley Town have also announced the appointment of their first ever non-executive directors.
Sussex-based solicitor Dean Orgill and local entrepreneur Matt Turner have not become shareholders in the club but will both have voting rights in addition to helping advise the current board.